New "Battleship" trailer amps up the action and aliens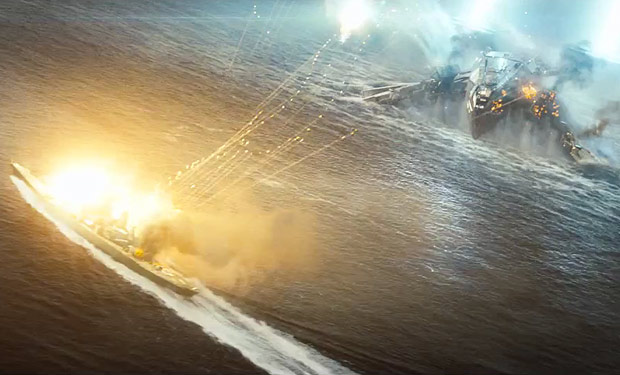 Posted by Terri Schwartz on
At least no one can say that Universal hasn't been paying attention to the response to "Battleship's" marketing campaign. The third (and likely final) theatrical trailer for the film seems to have improved on everything that people had been asking for from the first two. There's more aliens, more Rihanna, and a decided lack of a "Transformers" vibe (except, you know, for all those explosions). Plus, this trailer really ramps up the action in a way that seems to say, "Remember that whole romantic storyline teased in the first trailer? Fuggedabaoutit."
Honestly, "Battleship" might just be a big testosterone-filled summer blockbuster, but at least it looks like it could be a good one. Taylor Kitsch looks like he's got more room to breathe and have fun here than he did in "John Carter," and the tone of the trailers definitely matches with the material. I'm still waiting for Liam Neeson to pop up at some point and say, "You sunk my battleship," but maybe we'll have to wait until the movie for that.
The action sequences do look pretty badass in this new trailer. It's interesting that "Battleship" isn't being released in 3D because some of the shots definitely look like they'd be a great fit for it. Hopefully those scenes fit a bit better in the film than they do in the trailer, where sometimes they just feel gratuitous.
It's interesting that Universal decided to ditch the two lovers (Kitsch and Brooklyn Decker) storyline and instead focus on the action. I wonder which of those two aspects of the film is at its forefront, or if there's a good balance between them like in "Armageddon."
Here's the first trailer for comparison:
Will you check out "Battleship" when it hits theaters on May 18? Tell us in the comments section below or on Facebook and Twitter.