The 25 most quotable "Anchorman" one-liners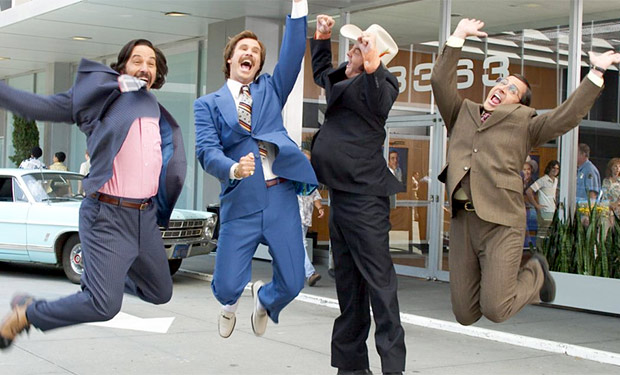 Posted by Terri Schwartz on
Everyone who has seen "Anchorman" has his or her own favorite quote. Considering the fact that nearly every line in the movie is quotable in some way, shape or form, it's hard not to feel like there's one line that is tailored just for you. Whether it's Baxter pooping in the refrigerator, eating a delicious but filling burrito or heading over the cartoon rainbow to Pleasure Town, there's something in "Anchorman" for everyone.
That's part of the reason the Internet nearly exploded when Will Ferrell announced there would be an "Anchorman 2." Despite the deluge of happy tweets, Facebook posts and articles celebrating the news, the references and nods to "Anchorman" rarely overlapped. It seems like the quotable nature of "Anchorman" is part of what made it such a beloved presence in our pop culture and why now, eight years after hit theaters, people are more excited than ever about the chance of a sequel.
So, in honor on the influence it's had in our daily lives, here is our pick for the top 25 most quotable lines in "Anchorman." Consider this our toast to 25 more great quotes when "Anchorman 2" hits theaters next year.
---
25. "He had a voice that could make a wolverine purr and suits so fine they made Sinatra look like a hobo." — Narrator
24. "I immediately regret this decision." — Ron Burgundy
23. "I'll have a Manhattan. And kick the vermouth to the side with a pair of steel-toed boots." — Veronica Corningstone
22. "I love scotch. Scotchy scotch scotch. Here it goes down, down into my belly." — Ron Burgundy
21. "Oh, I can barely lift my right arm 'cause I did so many. I don't know if you heard me counting. I did over a thousand." — Ron Burgundy
20. "Discovered by the Germans in 1904, they named it San Diego, which of course in German means 'a whale's vagina.'" — Ron Burgundy
19. "It's terrible. She has beautiful eyes, and her hair smells like cinnamon!" — Ron Burgundy
18. "Baxter, is that you? Baxter! Bark twice if you're in Milwaukee." — Ron Burgundy
17. " There were horses, and a man on fire, and I killed a guy with a trident." — Brick Tamland
16. "You are a smelly pirate hooker. Why don't you go back to your home on Whore Island?" — Ron Burgundy
15. "I read somewhere their periods attract bears. Bears can smell the menstruation." — Brick Tamland