Adapt This: "Viking" by Ivan Brandon & Nic Klein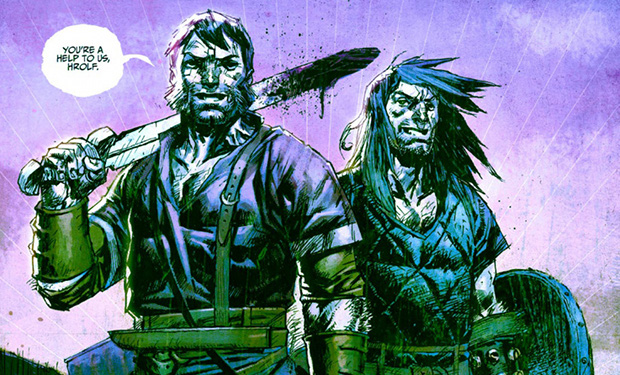 Posted by Rick Marshall on
With Hollywood turning more of its attention to the world of graphic novels for inspiration, I'll cast the spotlight on a new comic book each week that has the potential to pack a theater or keep you glued to your television screens. At the end of some "Adapt This" columns, you'll also find thoughts from various comic creators about the books they'd like to see make the jump from page to screen.
---
This Week's Book: Viking by Ivan Brandon & Nic Klein
The Premise: A pair of vicious Viking brothers get tired of raiding villages and decide to go after a much bigger prize: kidnapping a princess and holding her for ransom. When the plan goes awry — as ambitious plans often do — they find themselves in over their heads with the edge of a sword in every direction.
The Pitch: It's a heist movie with Vikings. Need I say more?
In Viking, brothers Finn and Egil aren't your typical rogues with hearts of gold. They're brutal, thoughtless barbarians who rarely think twice about killing anyone who crosses their path. The first volume of the series, "The Long, Cold Fire" follows the brothers as they carve a violent path through the countryside, only to learn the hard way that their actions have consequences — both to themselves and their loved ones. Rather than change their ways, however, the pair sets a plan into motion that will force them to evolve as characters.
A big-screen adaptation of Viking might need to soften the pair's edge a bit if it's looking for mainstream appeal, but the story is best served as a hard-R, violent period piece that doesn't set out to make its protagonists likable. The age of the Vikings was a hard time, after all, and Finn and Egil are products of that era.
While the first volume of the series offers a nice standalone adventure, there's ample room for a screenwriter to both expand on the source material. For example, the brothers' kidnapping scheme — which would likely be an important set piece in the movie — unfolds over just a few pages in the book. An adaptation would do well to capitalize on that scene by building it into something bigger and more exciting.
Along the same lines, a talented screenwriter could offer a more decisive end to the story than what appears in "The Long, Cold Fire," as the first volume was written with an ongoing story in mind.
Along with all of the axe-swinging and head-smashing, Viking also features some great dialogue and character development for both the brothers and the supporting cast of characters. As their lives intertwine, many of the characters who seem to be the good guys and bad guys at the story's start don't quite fill those roles at the end, leaving lots of room for surprises when Viking goes from page to screen.
The Closing Argument: Are we really still discussing this? Okay, then…
If you liked "Ocean's 11," you'll love "Ocean's 11″… with Vikings.
If you thought "Heat" was one of the greatest heist movies of all time, just imagine how much cooler it could've been… with Vikings.
Let's face it, folks: Pirates are washed up, cowboys rode off into the sunset years ago, and mobsters got whacked right off the big screen. What audiences need now are Vikings — and Vikings who plan complicated heists are the best kind of Vikings.
---
Would "Viking" make a good movie? Chime in below or on Facebook or Twitter.