"21 Jump Street" writer talks cameos, car chases, and the sequel he's already working on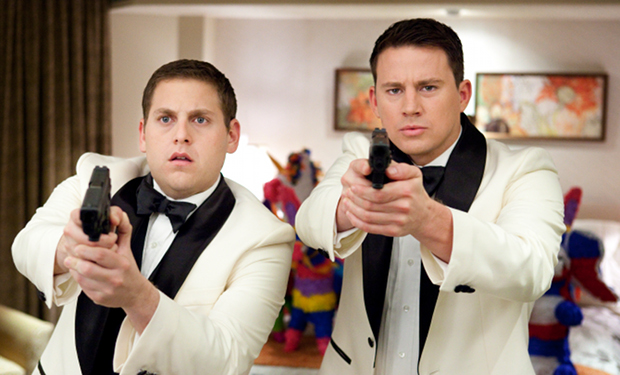 Posted by Rick Marshall on
"21 Jump Street" arrives in theaters this week, and it's already generated a lot of buzz for doing what many thought was impossible: making a movie based on a television series that's actually, well… really, really good.
IFC recently spoke with "21 Jump Street" co-writer Michael Bacall about the positive vibes surrounding the film as it approaches opening weekend, and his unique approach — along with co-writer and star Jonah Hill — toward paying homage to the source material while creating one of the year's funniest films.
---
IFC: Given everything we've seen from movies based on TV shows so far, let's be honest: no one expected this movie to be as good as it is. I'm sure you were aware of that from the start. What was different about your approach to the film that made it so different from its predecessors?
MICHAEL BACALL: A lot of that has to do with Jonah's brand of comedy, at least in terms of where he started — with movies like "Superbad." It's an edgy, hard-"R" arena that you're getting to play in here. That's what was initially so exciting about it for both of us: getting to take something on and try and make it of the moment and really push the limits of a great "R" comedy in terms of the kind of gags we could get away with. I think we're both fans of the buddy-cop genre, and "21 Jump Street" seemed like a good property to get to play around with in that genre. We've talked about working on an action comedy together for about a year before this idea came up, and Jonah called me up and said "21 Jump Street" and kind of blew my mind — because I watched that show when I was a kid, and at the time it was one of the coolest things on TV and incredibly edgy for the moment. If you watch it now, it probably seems a bit dated, but I used to love that show. It made you feel cool watching it.
IFC: A lot of times with films like this, it feels like they're wavering between sincere homage and parody, and they collapse trying to balance both elements. What went into your decision regarding what sort of movie this is going to be?
BACALL: We knew we wanted to tell a new story, but also give some clever winks and nods to the source material. We didn't want to become bogged down in parody, and we didn't want to milk nostalgia as the primary goal of the movie. We wanted to tell a good story first, and come up with these characters who have a nice emotional journey. But as fans of the show, it was really enjoyable after we had that character foundation down, to go and find places to have some fun with it.
IFC: There's always a lot of improvisational comedy in Jonah's films, and Rob Riggle mentioned to me that there was a lot of ad-libbing and improv during the filming of "21 Jump Street." Is that something you allow for when you're writing a film with Jonah?
BACALL: Well, I try to write a draft that's as tight as possible, and my goal is is that the draft is tight enough so that there's a really good foundation for extremely talented improvisational actors like Jonah to jump off of in any given scene. My goal for something where improvisation is part of the process is to have a draft that's good enough that, when it alternates between the draft and the improvisation, you can't really tell the difference. That way, I can steal credit for all of the great lines the actors throw in. [Laughs]
IFC: Well, I have to ask you about the cameos in the film. We all know Johnny Depp appears in it, so without revealing any more details about his cameo, can you tell me how you handle that sort of thing from a screenwriting perspective? Did you write him in and then hope he'd do it, or was it something added after the fact?
BACALL: We had a few versions of it written, but we didn't know until later in the process that he'd actually be doing it. The way that we wound up with what, well… what that cameo actually entails…. was that Johnny said he'd be interested, but only if we handled his role a certain way and did a certain thing with his character. That was really exciting for us, as you can imagine. We ran off and tried to come up with the most extreme way to satisfy his request that we possibly could.
IFC: Let's talk about the moment this project was announced, and there was a collective groan from just about everyone not involved with making the movie. Is that sort of response intimidating? Is it a challenge?
BACALL: For me, it was almost an advantage. It's a really enjoyable challenge to go into a project with full certainty that once it's announced, the reaction will be… less than effusive from the community of people who follow that kind of thing. I really enjoy a good challenge, though, and I think we just wanted to exceed the expectation that most people have for remakes and reboots and rehashing, and try to do something really interesting with it. I think we kind of reveled in that challenge and expectation.
IFC: So now that early reviews are coming in and people seem to think so highly of it, do you feel vindicated?
BACALL: Not so much vindicated as relieved, excited, and appreciative that everyone involved in the production just knocked it out of the park. Our actors turned in world-class comedic performances. Phil [Lord] and Chris [Miller] are amazing directors, and pulled off some incredible stuff. We had a great producer for this thing with Neal Moritz, so yeah, I'm really excited and grateful that everybody brought their A-game to it.
IFC: Well, since we know there was a lot of improv in the film, what's the scene in the film that you're most proud of writing and seeing on the screen in the way you wrote it?
BACALL: I really loved the car-chase sequence. I've been wanting to write a good car chase since I knew what a car chase was, and just being able to build the gags into that sequence and have some fun action at the same time… I'm really grateful those guys were able to bring it to life in such an effective way. I think I hugged Phil and Chris after that sequence played through for the first time.
IFC: So with any film that has positive buzz, the next question becomes… when will we see a sequel?
BACALL: I'm actually hashing that out right now.
IFC: You're working on the script for the sequel now?
BACALL: Yeah!
IFC: Okay, then… Good to know!