Rob Riggle talks "21 Jump Street" improv, the scene that will make you cringe, and "Call of Duty"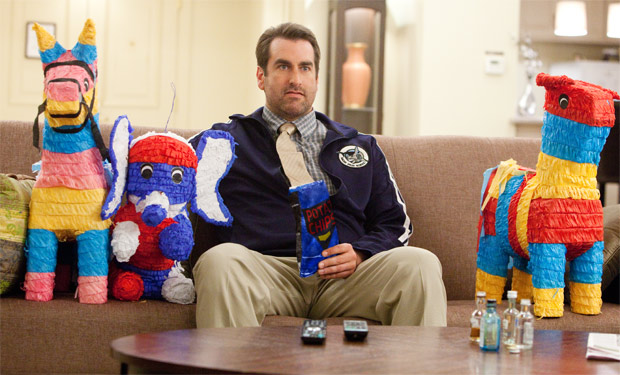 Posted by Rick Marshall on
Over the last few years, there's been no shortage of classic television shows that have been rebooted, reimagined, or outright parodied on the big screen with various degrees of success. This month, "21 Jump Street" joins that list, and early reports indicate that it could be one of the best of the bunch.
Like the original series, the "21 Jump Street" movie follows a group of young-looking police officers who go back to high school as part of an undercover investigation. Jonah Hill and Channing Tatum play Officers Schmidt and Jenko, respectively, and are joined by a long list of actors that also includes "The Daily Show" and "The Hangover" alum Rob Riggle, who plays the school's gym teacher, Mr. Walters.
IFC spoke with Riggle about his experience making the film and his role in some of the movie's most memorable (and cringe-inducing) scenes, and got a few details about exactly what was — and wasn't – in the original script. We also managed to ask the actor — who's also a U.S. Marine — a few questions about all of those "Call of Duty: Elite" ads he keeps showing up in.
IFC: How familiar were you with "21 Jump Street" before you got involved with the film?
ROB RIGGLE: I had an appreciation for the show. I definitely remember it, but I didn't watch it every week. I remember thinking that it was a pretty cool cast — even then, I recognized that it was a cool cast. I liked the concepts, too. The idea of young-looking cops going back to high school, I had an appreciation for that.
IFC: There's great chemistry between everyone in the film — especially when you, Jonah, and Channing are in scenes together. It seems like it was as much fun to perform as it is to watch. Was there as much improv as it seems?
RIGGLE: There was a lot of improv, yeah. The script was really tight, and that was great, because we would do lots of takes from the script with notes and without notes and get the scene just right. But then Chris [Miller] and Phil [Lord] and Jonah were really good about saying, "Okay, let's play a little bit. Let's see what you've got." So we'd improvise and play, and we all trusted each other enough that we felt comfortable bringing ideas and throwing stuff out there to try. I think in the movie you end up seeing a lot of scenes that were improvised, and you can see how it has that loose, natural feel about it. That's why we ended up cracking each other up a lot, because we kept catching each other off guard.
IFC: There's one particular scene near the end of the film, involving a certain part of your character's body, that had everyone in the theater cringing. Without revealing too much, what can you tell me about the scene? I have a feeling there was a lot of improv involved in it…
RIGGLE: Yeah, there was — it wasn't in the script. That whole thing wasn't in the script. When we were shooting that night, we discovered it. Basically, I get shot in a specific place, and I start talking about it, and then something happened that wasn't in the script, and it just heightened from there. That's the natural process of improv — one thing happens, then another, then this, then that… So we ended up getting a banana from craft services and soaking it in blood to make it look right, and during one of the takes, Jonah started whispering to me to do that with it. I was like, "For real?" But I did it, and it worked.
IFC: It always seems like you're playing these sort of tough-guy, meathead characters, whether it's on "The Daily Show" or in "The Hangover" and "21 Jump Street." Is there a part of you that just wants to play a florist someday? Or maybe a librarian?
RIGGLE: [Laughs] Yeah, if I really wanted to shock the world, I would play an intelligent, romantic lead. Because for the most part, I keep playing big knuckleheads who are like bulls in a china shop.
IFC: Well, with this film in particular, your character has some unexpected quirks — and there are a lot of other twists and surprises in the movie, too. Is it difficult to work on a project that tries to keep so many elements a secret?
RIGGLE: Well, I try to be honest about it and just tell people I can't talk about it. I don't want to say I'm superstitious, but I try not to tempt fate too much. And yeah, with this particular character, he has a lot of things going on. There's a lot of ebb and flow, and things aren't always as they seem.
IFC: Veering off-topic a little here, I've been seeing a lot of you in these "Call of Duty: Elite" ads. I know you're a Marine and you've been in combat, so I get that connection with "Call of Duty," but are you a gamer, too?
RIGGLE: When I was on "The Daily Show," I was living long-distance, away from my family. I had a small apartment here in New York, so I went out and got a Playstation 3, because I figured that if I stayed in my apartment, I wasn't getting in trouble and I wasn't spending money. Any time you go outside your apartment in New York, you spend money — so I stayed in my apartment and I played video games after I got home from work. I'd walk home from work, stop at Chipotle, get my burrito bowl, go home, eat my burrito bowl, play video games, go to bed, get up the next day, and then do it all again. On the weekends, I'd fly home.
IFC: As someone who's still active in the military and has seen combat, you must have an interesting perspective on games like "Call of Duty" that the typical player might not grasp. Along with all of the people — both civilians and military — who love the games, there's also been some criticism of franchises like "Call of Duty" by people who say the games glorify war. What's your take on all of this?
RIGGLE: I don't get wrapped around the axle too much on stuff like that. It's a game. Yes, you can make an argument that it glorifies war — but you can make an argument that chess does that, too. You can make an argument about any of these of things, and that's okay. You can make that argument. I respect the people who make those arguments, and if that's how they feel, I'm not going to debate it or fight about it. I have a family, and I have to provide for them. [With the "Call of Duty" ads], I was offered an opportunity to work, and I took it.