The top 10 shows from the '80s that should be made into a movie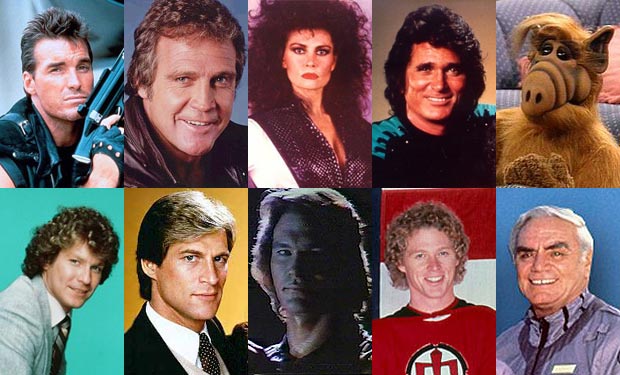 Posted by Rick Marshall on
Highway to Heaven
Yes, people would freak out about a "Highway to Heaven" movie and complain about the idea of bringing the wandering angel famously played by Michael Landon back to the screen. Nevertheless, the show has a great hook, and could do well as a feel-good film with a good mix of humor and heart-tugging moments. The hardest part of the process would probably be finding the right actor to play the lead (no small task, given the shoes he or she will have to fill). This one has "sold-out, all-ages matinee screening" written all over it.
---
The Highwayman
Sort of like a post-apocalyptic "Knight Rider," "The Highwayman" only ran for a single season, but that season was packed with weird adventures that rip off "Mad Max" in all the best ways. The series' protagonist rode around in all sorts of high-tech vehicles, policing the wasteland of America with a smile and a sawed-off shotgun. Honestly, I'm not even sure how this should be handled as a movie, but I know I want to see that movie. Legions of "The Highwayman" fans are screaming for this one, Hollywood. Can't you hear them calling?
---
Manimal
This series' opening narration says it all: "Dr Jonathan Chase… wealthy, young, handsome. . . . master of the secrets that divide man from animal, animal from man… Manimal!" If you happened to catch any of the eight episodes that made up this show's life span, you know that the concept was way ahead of its time. It's about a guy who can turn into an animal, and uses his secret powers to fight crime. Basically, he's sort of like Bruce Wayne, except instead of dressing like a bat, he can turn into one… but most of the time he just turns into a hawk or a black panther. While part of me wants to see a movie studio take a serious approach to the show and make it a dark, effects-driven adventure, I can't help wanting to see a ridiculous, comedy-fueled parody that spoofs this style of gimmicky crime-fighting story.
---
The Renegades
No, I'm not talking about the popular '90s series starring Lorenzo Lamas. "The Renegades" chronicled the adventures of an '80s-era street gang that's forced to help the police by going undercover in a special investigation unit. Imagine "21 Jump Street" mixed with "The Warriors," and you get the idea. The series only lasted six episodes, but it was full of potential, as Patrick Swayze played the leader of the gang, and the show was written by "Die Hard" co-creator Steven E. de Souza. A movie based on the series could offer a dark, gritty take on the modern gang world and the deadly line walked by undercover investigators — or even better, set the whole thing in the '80s and mine that well of nostalgia.
---
V
ABC recently tried to remake this '80s TV series about friendly alien visitors whose arrival on Earth hides a sinister agenda, but the show was canceled after two seasons despite favorable reviews. Both the original series and its modern counterpart were known for exploring social and political issues amid all the sci-fi action, and a good adaptation of the series could do the same. Heck, it worked for "District 9."
---
Which '80s TV shows do you think would make good movies? Chime in below or on Facebook or Twitter.