The top 10 shows from the '80s that should be made into a movie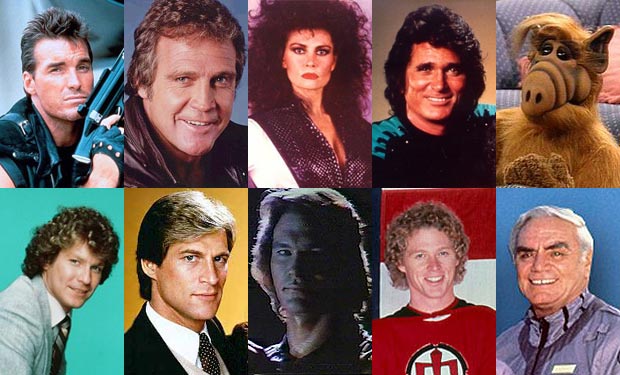 Posted by Rick Marshall on
The arrival of "21 Jump Street" in theaters this week amid heaps of positive buzz has a lot of cinephiles (us included) rethinking their perspective on movies that are based on television series. Not only does the new film pay homage to its source material, but it also reinvents the original premise as a viable, modern-day concept — a balancing act that few of its predecessors were able to perform.
If the early praise for "21 Jump Street" does indeed translate to box-office success, it's reasonable to expect that we'll see a lot more projects like this moving forward, for better or worse.
So, with that in mind, here are ten TV series from the '80s that are just begging for the big-screen treatment. In a few cases, we've even provided some thoughts on what form the movie should take when the premise makes the jump from living room to movie theater.
---
Airwolf
This late-'80s series about a guy and his super-powered helicopter was a prime example of Cold War-era entertainment, and while it might horrify purists to even consider this, a parody of the show has lots of potential for nostalgia-fueled comedy. Just imagine an "Airwolf" movie that parodies all those '80s-era TV series and movies that featured one guy and his helicopter/jet/tank taking on the Communist threat and you'll start to see the hook.
---
ALF
He's a wise-cracking, furry alien who lives with a suburban family and is constantly trying to eat their cat. I don't think there needs to be any more discussion regarding this show's potential as a big-screen comedy. People love ALF. Give them more ALF.
ALF Opening Credits
by AllisonSNLKid
---
The Fall Guy
Stunt man by day, bounty hunter by night, Colt Seavers is an action hero with a shtick that has big-screen adventure written all over it. Sure, the concept might need to be tweaked a bit (a stunt man who's framed for a crime and uses his skills to catch the real culprit, perhaps?) but the core idea is great. Of course, any movie based on "The Fall Guy" would have to have a cameo from the original star, Lee Majors.
---
The Greatest American Hero
An average guy has a close encounter with aliens who give him a costume that grants him all sorts of superhuman powers, but he loses the instruction manual before he learns how to control them. The special effects in this Emmy-nominated series were cheesy even by '80s standards, but that was part of its charm. Instead of another parody of an old TV series that makes fun of its source material, a "Greatest American Hero" movie already has ready-made comedy gold. Oh, and the original theme song, "Believe It Or Not," needs to be heard in some form if this project is going to, well… fly.
---
Hardcastle and McCormick
This series might not be as well-known as some of "21 Jump street" creator Stephen J. Cannell's other shows ("The A-Team," "The Greatest American Hero," etc), but it had a premise that seems like a perfect fit for the big screen. When L.A. Judge Milton C. Hardcastle retires from the courtroom, he takes along the files of 200 people who committed terrible crimes but avoided conviction due to technicalities. He recruits car thief Mark McCormick to help him track down the bad guys, and they each use their respective skills — and a fancy prototype car McCormick tried to steal — to track down the criminals. This show's just begging for a gritty, fast-paced action film starring a hot, up-and-coming actor as McCormick. You're welcome, Hollywood.