The 10 best "Snobs vs Slobs" comedies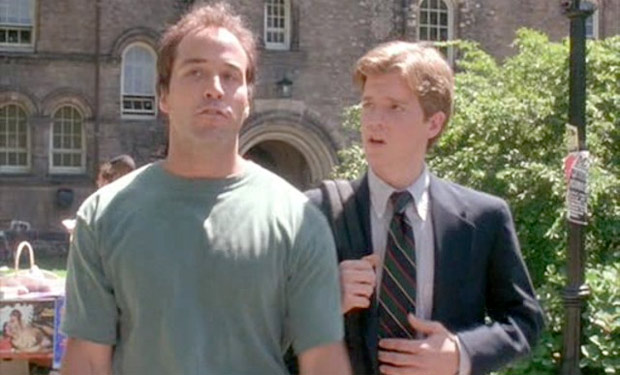 Posted by IFC on
By Andy Hunsaker
"D.C. Cab" (1983)
Joel Schumacher made his directorial debut with this absolutely ridiculous 1983 farce about a down-and-out cab company run by Harold (Max Gail) and featuring the likes of Mr. T, Paul Rodriguez, Bill Maher and The Barbarian Brothers as drivers – not to mention Gary Busey in one of his earliest insane roles. The snobs in this case are the rival Emerald Cab company, who are wealthy enough to have airport licenses and team jackets and everything – and eventually, Harold's wife Myrna, who tries to steal the reward money they get for finding a priceless violin in one of their cabs. However, with the help of Albert (Adam Baldwin), the motley crew get the money back and Mr. T even blings out his cab to look like a Rolls Royce.
---
"Revenge of the Nerds"
This classic 1984 romp manages to turn the concept inside-out, by making the slobs also pseudo-snobs – at least highly intellectual types the handsome jock Stan Gable (Ted McGinley) and his Alpha Betas could never hope to be – but each of these snob groups have their own pet super-slobs in Booger (Curtis Armstrong) and Ogre (Donald Gibb), respectively. However, the Tri-Lambs' – led by Lewis (Robert Carradine) and Gilbert (Anthony Edwards) – general hygiene issues and complete societal cluelessness certainly keep them firmly in the underdog slob category. Which they somehow retained through several sequels, even though they always ended up victorious.
---
"Up The Creek" (1984)
Otter and Flounder from Animal House team up with Pee-Wee from Porky's in 1984 to play the worst students at the worst school in the country, Lepetomane University – aka "Lobotomy U." The only way they're going to get their degrees is if they manage to beat the Ivy University prep-schoolers in a white water rafting competition who have every intention of cheating to win – not to mention the Washington Military Institute. A perfect example of hitting all the standard notes of the newly-formed (at the time) sub- genre, complete with 'guy vs. noisy birds' giving it a 'Bill Murray vs. Gopher' gimmick, but it's still entertaining. Plus, there's a wonder dog named Chuck, and Higgins from Magnum P.I. is the Dean.
---
"PCU" (1994)
Political correctness may be part of the reason The Whoopee Boys didn't make this list, and in 1994, it swept Port Chester University, resulting in the Greek system being outlawed entirely. This introduced a new kind of snob – the P.C. police – to make it a three way dance between the "cause-head" crusaders, the persnickety Balls and Shaft society headed up by the anal-retentive Rand McPherson (David Spade) trying to get Greeks reinstated, and the offshoot party frat The Pit, led by the pre-hair-transplant Jeremy Piven's hyper-obnoxious ringleader Droz, dedicated ferociously to pissing everybody off by being as offensive as possible. PCU is the genre being dragged into the enlightened era kicking and screaming.
---
"The House Bunny" (2008)
In 2008, we got an attempted revival of the snobs vs. slobs dynamic from a female perspective, albeit filtered through a Playboy lens, so adjust your expectations of 'greatness' appropriately. When former bunny Shelley (Anna Faris) ages out of Hugh Hefner's mansion life, she stumbles into becoming a house mother to the Zeta Alpha Zeta sorority, featuring the likes of an "adorkable" Emma Stone (whose performance alone earns the movie's spot on the list), a butch Kat Dennings, a pregnant Katharine McPhee and a back-brace-sporting Rumer Willis. They're not ashamed to be nerdy, but they have no idea how to not be perceived as losers, so while Shelley helps them socialize with the standard makeover montage, they help her stop dumbing herself down to cater to men. It is the modern era, though, so the Zetas realize their 'made-over' selves are over the top, and they don't need all that hype to be who they want to be. But they certainly retain some of it, because pretty is important – as most of the other male-focused movies on this list served to drill into all our heads since childhood. But we try not to think too hard when we're laughing at 'em.
Weigh in on your favorite "Snobs vs Slobs" comedies in the comments below or on Facebook or Twitter.