The 10 best "Snobs vs Slobs" comedies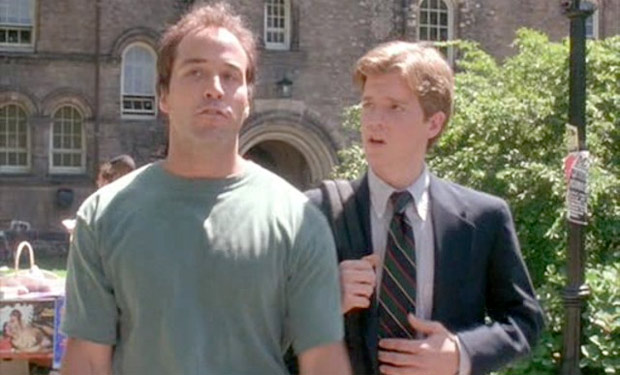 Posted by IFC on
By Andy Hunsaker
It's the great comedy dynamic – groups of uptight, hoity-toity, nose-in-the-air snobs against groups of down-to-earth, slovenly fun-seeking slobs. The haughty vs. the naughty is a genre unto itself. It had its heyday in the late 70s and throughout the 80s, but it's hardly a dead notion, since all the kids who grew up on those movies are out there making movies today. We're not quite talking about "The Odd Couple", with one neat guy living with one messy guy, but rather marauding hordes, or at least trios and quartets of rabble-rousing malcontents making life difficult for prim and proper types and good-looking bullies – although we'll leave "Major League" and "The Bad News Bears" to sports movie lists. So let's take a look at 10 of them, in chronological order, so you can then start angrily commenting about which ones I should've included instead.
---
"A Night at the Opera" (1935)
The Marx Brothers made a career out of being crazy weirdos who spent their time infiltrating high society in order to make a mockery of it, and that's well on display in this 1935 film as they finagle their way into the opera world. Their contemporaries The Three Stooges also made a lot of hay out of this dynamic (see their short Hoi Polloi) and, if you want to get completely meta about it, The Marx Brothers vs. The Three Stooges will get you a lot of snobs vs. slobs arguments – at least among the film critic set.
---
"M*A*S*H*" (1970)
Robert Altman's 1970 film about a group of pathologically insubordinate army surgeons – Hawkeye Pierce (Donald Sutherland), Trapper John (Elliot Gould) and Duke Forrest (Tom Skerritt) – constantly aggravating the proper sensibilities of Majors Frank Burns (Robert Duvall) and Major "Hot Lips" Houlihan (Sally Kellerman) during the Korean (read: Vietnam) War is a quintessential piece of work which spawned 11 years of television hijinks of the same nature from Alan Alda, Wayne Rogers and Mike Farrell.
---
3. "Animal House"
Let's be honest: John Landis' 1978 college comedy is the first thing that pops to everyone's mind when the idea of snobs vs. slobs comes up, since it had hordes of copycats. Dean Wormer (John Vernon) and his "double secret probation" against the men of Delta Tau Chi house and his recruitment of the nefarious Omegas to help his crusade to expel them all prompts a battle of wills between the academic establishment of "College" and Bluto (John Belushi), Otter (Tim Matheson), Flounder (Stephen Furst), Pinto (Tom Hulce) and the rest of the gang. Food fights, vomit and parade vandalism ensue and legends are born.
---
"Meatballs" (1979)
If you've got snobs giving you trouble, you want Bill Murray on your side, and that's the fact, jack. In this 1979 Ivan Reitman flick, he's Tripper Harrison, head counselor at slapdash Camp North Star, and their rivalry with the rich folk over at Camp Mohawk – who constantly beat them in every athletic competition – leads to one of the most inspiring comedy speeches of all time and a nutty amount of cheating to get one over on them.
---
"Caddyshack" (1980)
There's no better target for snob-mockery than the world of country club golf, and there's no better slob for taking the piss out of uptight upper-crusters like Judge Smails (Ted Knight) than Rodney Dangerfield. Bill Murray gets a lot of attention for what he's got goin' for him in this 1980 Harold Ramis comedy, but when Dangerfield's Al Czervik comes to the Bushwood Club as nouveau riche without a care or a manner in the world and planning to buy the whole place, the resulting showdown on the links eventually degenerates to glorious Kenny Loggins madness.