Zachary Quinto talks "Star Trek 2" battle scene and photo leaks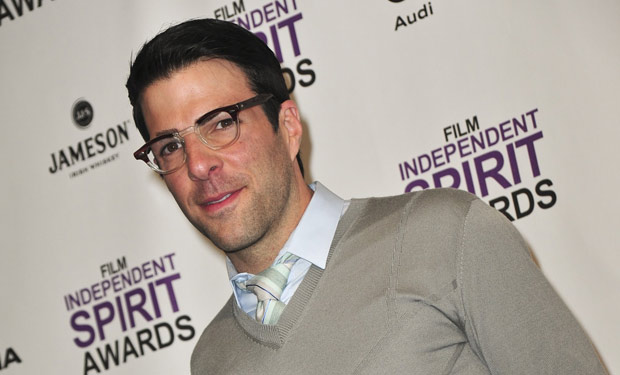 Posted by Terri Schwartz on
It's no secret that J.J. Abrams and the crew of "Star Trek 2" have done their best to keep as much of the upcoming film as they can a secret. But yesterday some new images leaked showing Zachary Quinto and Zoe Saldana facing off against bad guy Benedict Cumberbatch. The images look awesome — pretty sure there's even a Vulcan neck pinch going on — but needless to say the folks behind "Trek 2" were none too pleased.
IFC caught up with Quinto at the Film Independent Spirit Awards and asked him about the scene being shot. It turns out that the sequence is as cool on camera as it is in the leaked images.
"It is awesome. We've been working on that sequence for five days," Quinto said, refusing to give away any additional plot details.
Quinto's "Margin Call" director J.C. Chandor piped up that he and his daughter were on set the day that the scene was being film. "I was afraid they were going to think it was me who leaked that picture but it wasn't," he said. Quinto said he had no doubts that whoever did share the photos would be found and duly punished.
"The picture leaking did not go over so well. They're go to great lengths to preserve security," he said.
Just one example of the secrets being kept? We still have to refer to the movie as "Untitled Star Trek Sequel." Quinto said he wasn't sure if the title would change from "Star Trek 2," but we asked his suggestion as to what he would call the movie instead.
"Awesome, he said simply. "Totally."
Well, in that case, "Awesome" is due out in theaters on May 17, 2013. It also stars Chris Pine, Simon Pegg, Anton Yelchin, Karl Urban, John Cho and Alice Eve.
Are you looking forward to "Star Trek 2"? Tell us in the comments section below or on Facebook and Twitter.