Will Ferrell's five funniest random media appearances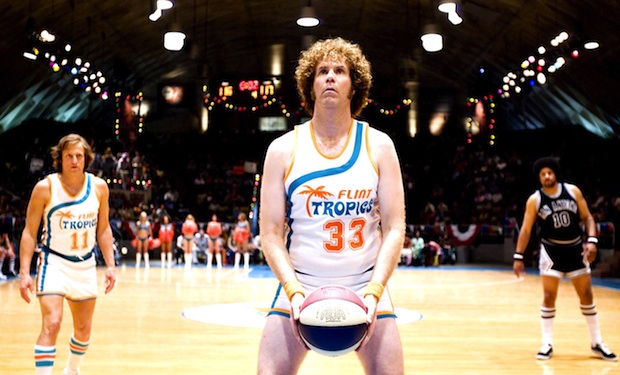 Posted by Matt Singer on
Will Ferrell is, of course, a world class screen actor, but if you only pay attention to his movies, you're missing some of his best work. When he's not busy starring in surprisingly moving indie dramedies or all-Spanish soap operas, he's usually off somewhere, doing something weird, with cameras in tow. In light of last night's latest hilarious public escapade (see #1 below) we've compiled, annotated, and embedded some of our favorite Ferrell media appearances. Enjoy.
---
1. Will Ferrell: NBA Public Address Announcer
The New Orleans Hornets haven't had a ton of star power since Chris Paul was traded to the Los Angeles Clippers before the start of this season, but they got a big boost in visibility when Will Ferrell stopped by last night's game against the Chicago Bulls to introduce both teams. Riffing on the opening scene from his basketball comedy "Semi-Pro," Ferrell welcomed each player with their own tidbit of hilarious (and blatantly inaccurate) information; Bulls forward Luol Deng, for example, collects rare birds and has a pet dolphin named Chachi. Even with Ferrell's help, the Hornets still played about as well as Jackie Moon's Flint Tropics; they got spanked 90-67 en route to their 22nd loss in 26 games. At least Will Ferrell still loves them sexy.
http://www.youtube.com/watch?v=zv3bYWuUUng
---
2. Will Ferrell: Local Television Beer Spokesman
Ferrell made headlines earlier this week for his beer commercial during the Super Bowl. There are plenty of beer commercials during the big game, of course, but Ferrell's for Old Milwaukee was a bit different: his aired on just one station — KNOP, in the nation's second-smallest market, North Platte, Nebraska. This isn't Ferrell's first stab at weirdly niche beer marketing; last year, he started promoting Old Milwaukee in an inspired series of spots that aired solely in the Davenport, Iowa area (he later followed them up with a series from Terre Haute, Indiana). He might be a professional buffoon, but Ferrell's no dummy. As one of the co-founders of Funny or Die, he understands viral media about as well as anyone. His Nebraska and Davenport commercials got him all the attention of a national campaign at a fraction of the cost. They're sort of the Old Milwaukee of commercials: cheap but effective.
---
3. Will Ferrell: Minor League Pitcher
Ferrell's connection to pro sports was well-established long before his NBA debut in the Crescent City. He's made movies about NASCAR drivers and Olympian figure skaters, and back in 2010 he made his minor league debut as a relief pitcher for the Triple-A ball club the Round Rock Express. Appearing as the beer-swilling, chain-wearing, fight-starting Billy Ray "Rojo" Johnson, Ferrell threw one wild pitch and was promptly ejeected and chased off the field. Ferrell's conspirators in this endeavor were the Express' brodcast team, who provided the perfect deadpan play-by-play for his shenanigans. ("Rojo Johnson sure looks a lot like Will Ferrell to me." "No, not at all! Will Ferrell doesn't have a mustache.") Johnson who, according to a press release, "served time for running a smuggling ring that imported rare and illegal species of reptiles into the United States from South America during the mid-to-late 1990s" hasn't been seen since. Speaking to reporters for MLB.com after the game, Johnson said that "mentally, I feel like I have the strength of 10 men," so maybe he tried to fight ten men and they murdered him.
---
4. Will Ferrell: Sexy Leprechaun
You can always count on Ferrell do something interesting when he pays a visit to Conan O'Brien. Ferrell's appearances on Conan back when Ferrell was still a repertory player on "Saturday Night Live" were legendary; his funniest and most infamous recurring bit was a vaguely defined yet oddly compelling character called "Sexy Leprechaun." Ferrell would appear in green top hat, puffy silk belly shirt, and tiny green panties, and make O'Brien as uncomfortable as possible, typically by grinding on his desk to "traditional Irish music" (and by "Irish," he meant "strip club"). When Conan celebrated his 10th anniversary on late night with a special show from New York's Beacon Theater, Ferrell came out to congratulate him, dressed sharply in a dark suit. Then he peeled off what was actually a breakway costume to reveal Sexy Leprechaun underneath. Begorrah.
http://www.youtube.com/watch?v=V3IQmTOeXoI
---
5. Will Ferrell: Talk Show Crasher
Note: when you invite Will Ferrell on a talk show, expect the unexpected. Actually, even if you don't invite him on, you need to be careful. Back in 2004, Ferrell was scheduled to appear on the premiere of John McEnroe's CNBC talk show to promote his film "Anchorman." While he was in the studio, he figured, what the heck, let's stop by the neighboring set of CNBC's "Power Lunch" and mess with their stuff. He pops in unannounced in the middle of a live broadcast to tease hosts Bill Griffeth and Sue Herera with jokes and weird come ons. ("Ooh, are we gonna make hot Spanish love right now?") Before the crew could kick him out, Ferrell wet himself, hugged Griffeth, made out with "Mexican Sue," and dissed the show's prop computers. This clip is not to be watched while eating your own power lunch or you may spit it out in the process.
---
What's your favorite weird Will Ferrell appearance? Tell us in the comments below or on Facebook and Twitter.