"Wet Hot American Summer" sequel "one hundred percent happening"?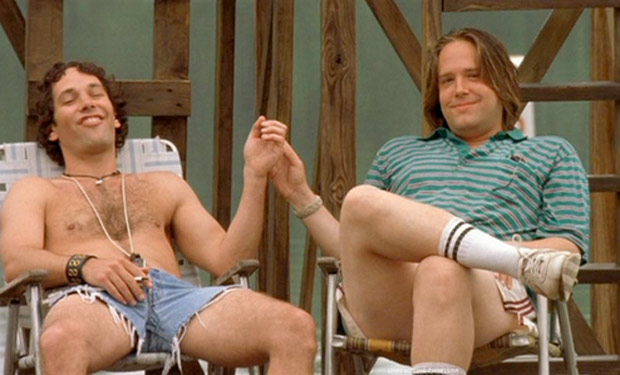 Posted by Terri Schwartz on
Apparently a "Wet Hot American Summer" sequel is "one hundred percent" in the works, according to star and co-writer Michael Showalter. The problem is the rest of the cast didn't seem to be aware of that already.
Showalter was a guest on Bravo's "Watch What Happens Live" last night, and was asked directly by host Andy Cohen whether there would be a "Summer" sequel. It's something that's been rumored about for a while ever since director David Wain said last year that a prequel is in the works.
"Absolutely yes. One hundred percent yes," Showalter replied to Cohen. "The whole gang — everyone is back. We're doing it."
This seemed to be news to some of the cast, though. Michael Ian Black seemed to be caught by surprise by Showalter's announcement.
"I really don't think this is true," he tweeted after Showalter's announcement had been made. He had tweeted earlier in the night, "I just found out there's going to be a 'Wet Hot American Summer' sequel from @mshowalter on TV. Apparently, I'm not in it." Black later joked, "Andy, please ask @mshowalter if I can be in the "Wet Hot" sequel. Thanks! #wwhl"
In the past, Black had expressed interest in doing a "Summer" sequel. He told Vulture that he would be back on board if the crew ended up getting the money to film it.
"I have heard rumors that [director] David Wain started floating out there I think probably somewhat prematurely, but I don't know. I think we'd all like to do it. If somebody wants to write us a check for several million dollars, I'm sure we will do it," he said.
What this could be, though, is the prequel that Wain had previously discussed. "The prequel would be the same summer," Wain said, "so it would be 40-year-olds playing 16-year-olds. And yeah, we're in the early stages of thinking about that." It's unclear whether that means the old cast — Black, Bradley Cooper, Amy Poehler, Paul Rudd and Elizabeth Banks, among others — would be asked back, or whether the movie would star new talent. Hopefully the former, just because it will be nice to see all of those now-famous actors brought back to the film that helped launch their careers.
Would you want to see a "Wet Hot American Summer" sequel or prequel? Tell us in the comments section below or on Facebook and Twitter.