Watch "Sin City" tonight to be prepared for "Sin City 2"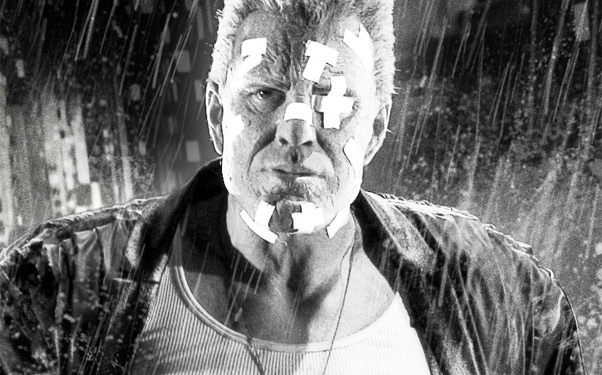 Posted by Melissa Locker on
"Sin City" comes to life tonight at 8/9 c. The Eisner Award-winning comic series was adapted for the silver screen by director Robert Rodriguez and creator Frank Miller. The film noir crime movie weaves together multiple storylines from the series' dark history to paint a picture of the ultimate town without pity. There's the street thug Marv (Mickey Rourke), whose desperate quest to find the killer of a prostitute named Goldie (Jaime King) will lead him to the foulest edges of town. Inhabiting many of those areas is Dwight (Clive Owen), a photographer in league with the sordid ladies of Sin City, headed by Gail (Rosario Dawson), who opens up a mess of trouble after tangling with a corrupt cop by the name of Jackie Boy (Benicio Del Toro). Finally, there's Hartigan (Bruce Willis), an ex-cop with a heart problem who's hell-bent on protecting a stripper named Nancy (Jessica Alba).
It's one of those movies that leave you wanting more more more and finally there are rumors that more might be on its way. After the success the film, it seemed like only a matter of time before more of Miller's brutal but beautiful comics made their way to the big screen, but six years later and nothing. Then at Comic Con, out of the blue, Robert Rodriguez, the co-director of the first film, announced that the sequel was just about ready to start filming.
There's still no word on a cast for the second "Sin City" flick, but Miller told MTV:
"'Sin City' number two is primarily an adaptation of the book 'A Dame to Kill For'. It also features the short story, 'Just Another Saturday Night' and two new stories. One involving Jessica Alba's character, Nancy Callahan, that I came up with for the movie in order to tie things together and make it be more united with the first."
That could mean the return of both Mickey Rourke as Marv and Jessica Alba as Nancy and who doesn't like the sound of that? Rodriguez and Miller have enlisted Oscar-winning screenwriter William Monahan to work on a draft of the film's script. Monahan, who won an Academy Award for adapting the 2006 film "The Departed," will be working based on Miller's script. Tune in to "Sin City" tonight so when "Sin City 2" hits the silver screen, you'll be ready.
"Sin City" airs tonight at 8/7c