Volkswagon unveils their "Star Wars" Super Bowl commercial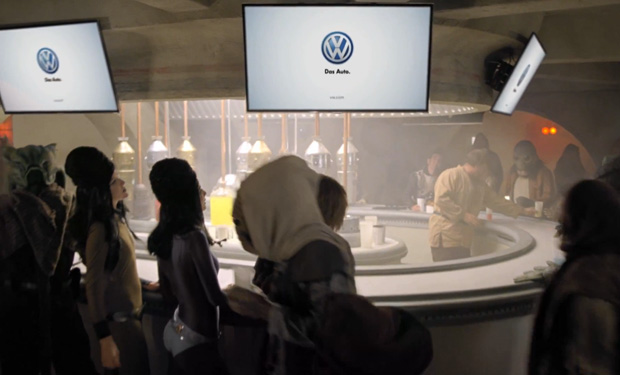 Posted by Terri Schwartz on
The battle of the nostalgic film Super Bowl commercials is on! Only a few days ago, Honda teased and then released their "Ferris Bueller's Day Off"-themed ad that was intended for football's biggest day. The commercial set the Internet on fire, and also overshadowed another recently-teased ad: Volkswagon's "Star Wars" follow-up to last year's Darth Vader kid commercial.
Called "The Bark Side," the teaser featured a whole lot of adorable pooches barking the Imperial March. So, what we were able to glean from that is that the upcoming Super Bowl ad will have to deal with "Star Wars" and also have some dogs in it. Maybe even some more greyhounds dressed as AT-ATs.
Well, we were right about everything except the last bit.
Volkswagon's commercial starts off with a chubby pup named Bolt who is too fat to get through his doggie door and chase the all-new Volkswagon Beetle down the street. After an impressive work-out montage, Bolt is able to lithely jump through the door and high-tail it down the street after the car.
You might ask yourself, so where's the "Star Wars"? The scene pans back to reveal that the commercial was actually being watched by a bunch of galaxy lowlifes in the Mos Eisley Cantina. Two particular hooligans start arguing over which was cuter: Bolt or last year's Vader kid in "The Force."
"Are you kidding? The dog is funnier than the Vader kid," determines one of the aliens, who suddenly finds it a bit hard to breathe. Cut to said Vader kid force choking him from across the bar. The lesson to be learned here is you never know who'll be listening in Tatooine!
So which ad do you think won the battle of the Super Bowl commercials? Tell us in the comments section below or on Facebook and Twitter.