Five movies that should never be watched on a Valentine's Day date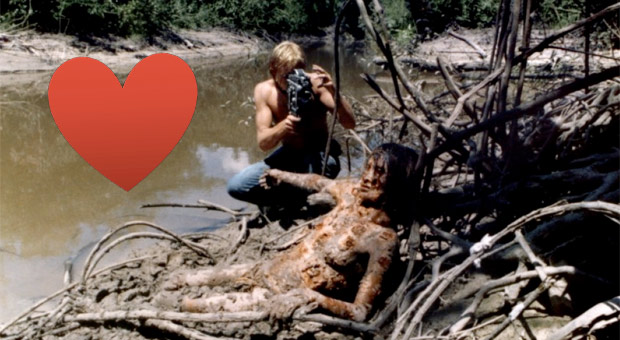 Posted by Scott Neumyer on
If there's anything that's universally understood in the world of dating, it's that Valentine's Day is the perfect day to show your date some truly disturbing movies. Oh, wait a second. It's not? Hmm. What is true about Valentine's Day, though, is that it is a great day to take your date out to a nice meal followed up by a fun, romantic movie. They actually do love that. Some guys, however, wouldn't know a romantic movie if it proposed to them from the top of the Empire State Building. That's where we come in with a little assistance. And while we're not going to give you a list of romantic movies you should pop in the Blu-ray player on February 14th, we are going to give you a list of five movies that should never find their way into your Valentine's Day plans. Heed our warnings, fellas.
---
"I Spit on Your Grave" (1978)
Don't let the original title of Meir Zarchi's 1978 controversial shocker fool you. "I Spit on Your Grave" may have first been released under the title "Day of the Woman," but this is one of the last movies you'll ever want to show your lady on any day, let alone Valentine's Day. The exploitation flick is an unabashedly tough look at what could arguably be called the worst day a female has ever had in a film. Writer Jennifer Hills (Camille Keaton) decides to rent an isolated house by a lake, deep in the countryside but her plan of getting some work done goes awry when she crosses paths with a group of local men hell bent on doing whatever they want to the poor girl. She's tortured and raped by the men in some of the most disturbing ways possible before escaping back to the rental to endure yet another round of torture and rape. All this before Jennifer finally gets herself together and decides to lure the men in one by one and take them out in extremely brutal and degrading ways. It's a feel good movie, you see!
Zarchi has been defending the film for over thirty years now – he claims the film is a feminist critique of sexualized male violence – but he can talk until he's blue in the face; it doesn't make "I Spit on Your Grave" any easier to watch. Remade in 2010 by Steven R. Monroe the film follows nearly the same exact trajectory as the original and it's well made but mostly forgettable aside from a standout performance by Sarah Butler in the Jennifer Hills role. Nevertheless, you're going to want to stay as far away as humanly possible from these films if you plan on getting lucky on Valentine's Day (or ever again).
---
"Irréversible" (2002)
If your idea of a good time on Valentine's Day is actually making your date physically sick, then go ahead and pop in Gaspar Noé's 2002 told-in-reverse French film "Irréversible." The sadistic (and talented) directed didn't want to just assault viewers' eyes with the contents of the film, but he actually recorded portions of the film using extremely low-frequency sound (you know, the kind the SWAT team uses to quell riots), which causes the audience to experience disorientation and nausea. Physical symptoms aside, the film itself is enough to make many people ill. There's a hyper-realistic scene right near the beginning that includes a fire extinguisher and a head that would send most people running from the theater. In fact, it's the only scene in my cinema-loving life that actually gave me a panic attack while watching.
Oh, yeah, and then there's that whole eight-minute-long subway rape sequence in which Noé decides to place the camera on the floor and just leave it there for the viewer to watch. The perspective and the fact that it takes place in one continuous shot make the scene one of the most difficult to watch in the history of film. Throw in the fact that you'll probably have to subject your date to the film more than once if she actually wants to understand it (thanks to that pesky reverse narrative) and you've got quite a romantic evening planned.
---
"Cannibal Holocaust" (1980)
Found footage films like "The Blair Witch Project," "Cloverfield," and most recently "The Devil Insid"e might be the current cinematic craze, but Ruggero Deodato precedes them by over twenty years. Released in 1980, "Cannibal Holocaust" used the found footage technique to introduce the world to one of the most horrifyingly realistic, controversial, and disturbing films of all time. Filmed in the Amazon Rainforest, "Cannibal Holocaust" tells the tale of a documentary film crew who had traveled to the Amazon to film indigenous tribes and come home with some truly sensational footage. The only problem… they never came home.
So why wouldn't you and your lady want to sit down with a roaring fire, a nice glass of wine, and "Cannibal Holocaust" in the DVD player? Well, here's a short list of some of the degradation that takes place in the film: mutilation, rape, murder, beheading, and animal cruelty. The most disturbing thing on that list, however, might just be the animal cruelty as the filmmakers infamously killed several animals on screen including a large turtle. The film has been banned, at one time or another, in nearly every country and not only garnered Deodato death threats, but it also landed him in an Italian prison when authorities thought he'd actually murdered his cast. What better way to say, "I love you" on this special day than to show your girl a woman getting skewered on a pike.
---
"The Woman" (2011)
It's frightening that Lucky McKee's "The Woma"n is probably the least disturbing of all the films on this list. Don't get me wrong here; the film is highly disturbing but, unlike the other films listed, it's not an endless assault on the senses. Starring Pollyanna McIntosh, Angela Bettis (a McKee favorite), and Sean Bridgers, "The Woman" tells the story of a successful lawyer living in the country who stumbles across a feral woman (McIntosh) while in the woods. He decides to capture the woman in an attempt to "civilize" her, but his actions ultimately put his clean-cut family in harm's way. Now, that description might not sound all that disturbing to you, but once you realize just how he plans to "civilize" this woman – namely through rape, control, and degradation – you get a clearer picture of why the film has been so controversial.
Controversial, you say? Surely you've seen the video of guy who walked out during the film's Sundance premiere and proceeded to go on a six-minute rant about how McKee's film is degrading and terrible. While the guy's reaction is clearly exaggerated and overblown (I actually think "The Woman" is not only an excellent film, but it's also one of the best horror films of 2011), it's a testament to just how the film raises some extremely strong emotions in viewers. And if there's anything you want on Valentine's Day, it's to watch a film that can spark a nice, long fight with your date! Well, you're in luck: The Woman is now out on Blu-ray and DVD. Happy fighting!
---
"The Last House on the Left" (1972)
"The Last House on the Left" is a film that may be a lot of things to a lot of people, but it's most important contribution to cinema will clearly be that it's the film that launched the career of horror legend Wes Craven. Without Krug (played to creepy perfection by David Hess) we would probably never have had Nancy Thompson (of "A Nightmare on Elm Street" fame), and for that we forgive "The Last House on the Left" for all its inadequacies, controversy, and disturbing imagery. Not to mention, the film basically kick started a subgenre (Slasher Films) that's still thriving over thirty years later. "The Last House on the Left" might be a truly depraved film, but it's also an important one.
Inspired by Ingmar Bergman's 1960 Swedish film "The Virgin Spring," the story told is a familiar one with a few clever twists: Innocent girls run across really bad guys. Really bad guys do really bad things to innocent girls. Everyone is shocked. There's some revenge. The end. Okay, okay. The film is obviously more nuanced than that, but you get the idea. It's all about shock value, realism, and depravity here. There's plenty of violence, torture, and rape involved (are you seeing a pattern with this list yet?), and there's also a good deal of gore. Craven leaves it all in front of the camera for the viewer to gawk at, which only works to make the film that much more difficult to watch. Remade fairly successfully in 2009 with Monica Potter and Sara Paxton in the role of those innocent girls, you wouldn't really want to show either version of "The Last House on the Left" to your Valentine. Trust me on this… The last image you want her having in her head is that of the truly creepy David Hess. Yikes.
---
Which film do you think should never be shown on Valentine's Day? Let us know in the comments below.