The directors of "Undefeated" tackle high school football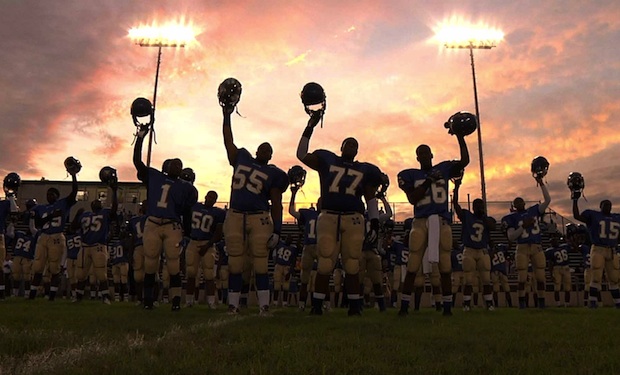 Posted by Matt Singer on
"You keep doing the right thing. And good things will happen to you."
Those are the words of high school football coach Bill Courtney to his team, the Manassas Tigers. Based on the incredible power of "Undefeated," the film about Courtney and the Tigers, one has to assume that its directors, Dan Lindsay, and T.J. Martin, have been doing the right thing for a loooooong time. The film premiered at last year's South by Southwest Film Festival, where it was quickly scooped up for distribution by The Weinstein Company. Now it's nominated for the Academy Award for Best Documentary before it even opens in theaters this Friday.
The documentary category at the Oscars is always fraught with controversy. This year's nominations have been particularly contentious thanks to snubs of terrific films like "The Interrupters," "Senna," and "Project Nim." Regardless, "Undefeated" is a worthy Oscar nominee. The film, which bears obvious similarities to the television show "Friday Night Lights," packs as strong an emotional wallop as any of the series' best episodes.
Manassass High is located in North Memphis, Tennessee, one of the most economically depressed parts of the country. Its students are not only playing for pride, some of them are quite literally fighting for their future, like star offensive lineman O.C. Brown, whose unique physical abilities could land him a college scholarship if he could only get his grades up. His teammate Montrail, a.k.a Money, has the opposite problem: he's an exceptional student, but he's too small to play college ball and probably too poor to afford a good school any other way. And then there's Chavis, a player who missed all of last season after he was sentenced to a term in a youth detention facility because of anger management issues.
These guys might sound more like the Bad News Bears than the Chicago Bears, but Courtney's positive influence on these young men and their community over the course of a single remarkable season is nothing short of inspiring. Not to get too schmaltzy about it, but the world portrayed in "Undefeated" — where good deeds are rewarded in kind — is the world we all want to live in. And to know that this is a documentary, which means this is the world we actually live in, makes your heart soar.
During our conversation, Lindsay, Martin and I talked about how the project developed, why they chose to focus on O.C., Money, and Chavis instead of the traditional subject of football stories (i.e. the quarterback), and whether they ever received one of their own motivational Bill Courtney pep talks.
I've read that your original plan was to make a film specifically about O.C. Brown. How far into the process did you decide to widen the film's scope and what spurred the decision?
Dan Lindsay: It happened after our first trip to Memphis to look into the idea. On that trip we met Bill Courtney, and his dynamic personality convinced us right away that he would be a part of the film. And then when he told us the stories of the previous five years and the amazing anecdotes of things that had happened in the past, we realized that really was the story: the team trying to break [Manassas' 100-plus year] playoff jinx. That seemed like the perfect setup for a beginning, middle, and an end.
T.J. Martin: It opened up in scale after meeting Bill, but the approach of the film never changed even as it grew. From day one, we knew we wanted to make something more vérité. We were much more interested in things unfolding in front of the camera and less anecdotally.
We fought making a traditional sports film for a long time. The season gave us a nice spine, but we still thought a lot of the film would take place off of the field. Then we realized that it was undeniable how much drama was taking place on the field, and on the practice field, and so forth. About three games in, we realized if we were going to make a sports film we better make the best damn sports film there is.
It's a damn good sports film, but it may be the only football movie I've ever seen where not only are the quarterback and the running back not the main characters, they don't even have speaking roles. Was that a deliberate choice or was that simply how the finished film evolved in the editing room?
DL: That was our own stupidity, not a deliberate choice. [laughs] No, but it is funny; about halfway through the season we were like, "Oh man, we should probably be talking to the guys who are scoring all the touchdowns."
[laughs]
DL: But it was always about the characters. We set out to make a documentary that would make you forget you were watching a documentary. We needed characters who had potential for a dramatic arc. They wanted something, and either they were going to get it or they weren't. That was our focus. We did realize that people were probably going to be interested in who this great quarterback is. But it was never our intention to make a rah-rah football film, so those guys never seemed as important to us.
TJM: For lack of a better term, the way we "cast" our characters, besides trying to find whoever had the most potential for dramatic change within a short amount of time, was to pick people who were going to interact with each other and with the team. We did follow a couple of other storylines that were extremely compelling, but they didn't make the final edit because we didn't want to make a series of vignettes. We wanted it to be a really tight narrative where every scene propels the story forward.
Your subjects are so incredibly comfortable on camera. I'm sure a lot of that had to do with the way you guys built a relationship between you and then team. But watching how remarkably relaxed — and how incredibly open and honest — these young men are on camera, made me think about the world of YouTube videos and camera phones. Teens today think it's totally normal to have a camera pointed at them. Do you think you guys benefitted from that?
DL: I don't think we ever really thought about that. For us, the approach was to build a relationship. But I will say one of the reasons we got excited about the film after that first trip to Memphis was we were getting that kind of honesty right away. I can't say what to attribute that to. Honestly, I think part of it is some of these guys were just happy to be able to express themselves and tell their stories. I know Money especially doesn't really have a lot of people in his life who are asking him those kind of questions about his hopes and fears and stuff. I think our interest alone helped us.
Our age really benefited us, too. We're both in our early 30s, so we weren't unbelievably far removed from high school. We were able to relate to the kids in that way but we weren't too far removed from the coaches either. It put us in this spot where we could relate to both the coaches and the students.
When a character like Money is going through hard times, how hard is it to just stand there with a camera and not go over and give the poor guy a hug?
TJM: It's extremely difficult. In vérité documentaries, you're really watching the relationship between the filmmaker and the subject. We didn't want to be "objective" or not grow close to the subjects; we wanted an intimate film, so we did develop a pretty close relationship with our subjects. To watch them struggle with certain things in their lives, to watch them go through obstacles, and to know that in your own opinion they might be making the wrong decision, was extremely difficult. At the same time, that's not our judgment call, and we always needed to remind ourselves of that.
With that said, Money went through some really tough times while we were there, including a lot of stuff that's not even in the film. There were definitely times where we'd take him out to lunch, without the cameras, and give him an opportunity to vent and kind of figure out where his head was at. And that's an opportunity to remind him that we care about his well-being.
DL: To answer your question directly, there are also times where you do give the guy a hug. We understand the line between filmmaker and subject, and we respect that, but at the same time it's impossible not to get close with these guys, and sometimes it just happens. After [a crucial game], I was following Bill and he broke down, and I was like "None of this is necessary." I put down the camera and we talked and I gave the guy a hug. You can't help that. Or if you can help it, I think you end up with a very — I don't mean this to be judgmental or anything — but a very sterile film. As an audience member, you can feel when a filmmaker is removed to that extent.
I spent part of my vacation in Memphis last summer, and I was unprepared for how hard the recession had hit the area. How familiar were you guys with Memphis and its problems before you started the film?
TJM: I personally didn't know much about Memphis before going there. We did as much research as possible in advance, but we kind of had the same experience: when we got to North Memphis, we felt a stronger and more urgent need to tell this story. Dan and I have done a fair amount of traveling, and neither of us had seen poverty on that level in this country before. We never set out to make issues-based films; we always wanted to make more of a human interest piece. But the one thing that is pretty rare to find in communities like this is a film that celebrates the potential, the opportunities, and the good along with the bad. A lot of times in these communities, specifically communities like North Memphis, if there's a media presence, they're there to sensationalize a story about violence in the neighborhood or something like that. And we saw this more as an opportunity to celebrate the stories of the people who live in these communities.
As we see over and over in the film, Bill Courtney is a master of the halftime pep talk. Did you ever find yourselves on the receiving end of one of his pep talks?
TJM: [laughs] Definitely. In postproduction, we found ourselves on the receiving end of those pep talks ever day. And little does he know that's what got us through nine months of post-production: listening to these amazing speeches by Bill. That actually gave us hope to go into the editing room each day when we were only 25 hours into a 500 hour logging session.
DL: We both still talk to Bill all the time. He always wants to know about everything going on in my life and he totally does it to us. [laughs] "Dan, you gotta embrace this moment!" Every once in a while I find myself getting kind of worked up when he's talking to me. It's an ongoing pep talk from him to me.
"Undefeated" opens in limited release this Friday. If you see it, let us know what you think on Facebook and Twitter.