The top five talent agent scenes in movies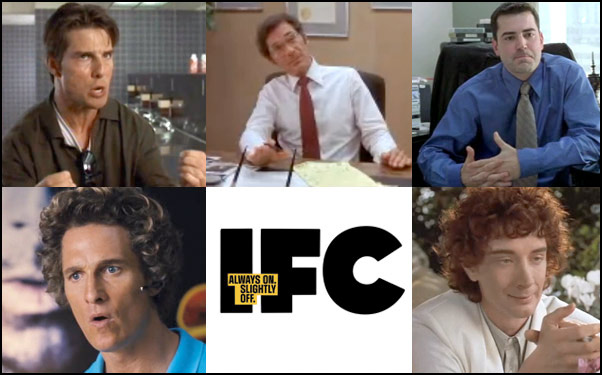 Posted by Bryan Enk on
Where would a man be without his agent? He'd be lost in the jungle (sometimes literally), wondering how all this anarchy and madness came into being. Here are some of our favorite scenes that depict the often complex but almost always beautiful relationship between an agent and his client.
---
Martin Short in "The Big Picture" (1989)
"The Big Picture" could be seen as the scrappy prelude to Robert Altman's "The Player" with its story of Nick Chapman (Kevin Bacon), an up-and-coming film director who gets plunged into the madness of Hollywood following the acclaim of his Academy Award-winning student short film. Like Steve Martin's "L.A. Story" (which was released two years later), "The Big Picture" takes place in a bizarro-alt-world Los Angeles filled with hustlers, creeps and weirdos (a portrayal that could be argued ends up being more realistic than surrealistic), with Martin Short making a rather amusing uncredited appearance as fey talent agent Neil Sussman, with whom Nick "does lunch." Short's obviously having a blast, and the feeling is infectious — we especially like his final exchange with the waiter, who's quick with a detailed and eloquent description of a fellow restaurant patron.
---
Tom Cruise in "Jerry Maguire" (1996)
"Jerry Maguire" might be writer-director Cameron Crowe's crowning achievement (next to "Say Anything") due to its endlessly quotable screenplay and terrific performances by Tom Cruise as Maguire, a pushing-40 sports agent who suddenly has a crisis of conscience about the inherent moral corruption of the industry he works in, and Cuba Gooding Jr. as Rod Tidwell, the Arizona Cardinals wide receiver who's disgruntled with his current contract. Never has there been an agent-client relationship that was more inspiring as they take on the system with a determination to make a difference in their respective fields — and it all begins in a locker room ("Towel?" "No, I air dry.").
http://www.youtube.com/watch?v=lmj3IaB2NcE
---
Sydney Pollack in "Tootsie" (1982)
This hilarious exchange between long-suffering agent George Fields (played, appropriately enough, by "Tootsie" director Sydney Pollack) and his client, difficult method actor Michael Dorsey (Dustin Hoffman), might not be as "iconic" as the "Help Me Help You" scene between Tom Cruise and Cuba Gooding Jr. in "Jerry Maguire," but it's pretty close. Pollack is spot-on perfect in the role, immediately exasperated the second Hoffman walks into the room — as is, apparently, the person whom Pollack was talking to on the phone, who hangs up either on purpose or by accident ("Look what you did!"). Hey, we also might argue that a tomato wouldn't necessarily ever sit down — "logic" has to apply to fruit, too.
---
Matthew McConaughey in "Tropic Thunder" (2008)
It's always good to see Matthew McConaughey do comedy — he's a great dramatic actor, too, but a part of us will always see him as Wooderson, the eternal admirer of trapped-in-time high school girls, from "Dazed and Confused." The role of Rick Peck was originally intended for director-star Ben Stiller's "Zoolander" pal, Owen Wilson (you can kind of tell — there's something distinctly Owen Wilson-ish about Peck's dialogue), but McConaughey makes it his own just fine, balancing the agent's fast-talking industry speak with an inherent sweetness that comes from the fact that he's hopelessly in love with his client, aging action star Tugg Speedman (Stiller), whom he affectionately refers to as "Tugboat." One thing's for sure — Peck has the best office, like, ever.
---
Ron Livingston in "Adaptation" (2002)
Ron Livingston's first contribution to the conversation between him and his neurotic screenwriting client, Charlie Kaufman (Nicolas Cage), could've been his only line in the movie and he still would've stolen the entire thing from a heavyweight cast that also includes Meryl Streep, Chris Cooper and Brian Cox. Livingston's Marty Bowen (who's based, at least in name, on Kaufman's real-life agent) is a spot-on caricature of what most people think talent agents must be like — id-driven, narcissistic and almost endearingly clueless/distracted. The fact that Cage's Kaufman has no response whatsoever to his agent's random revelation about a female co-worker makes it even funnier.
---