Call-In Commentary: Watch "The Woman in Black" trailer with star Daniel Radcliffe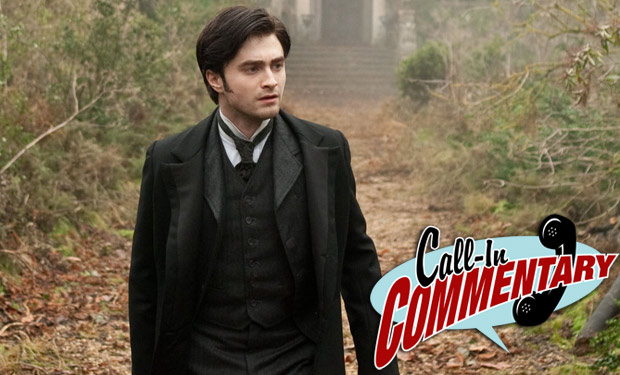 Posted by Brian Jacks on
Daniel Radcliffe certainly needs no introduction, but his new thriller — his first role since ending the "Potter" franchise — probably does. "The Woman in Black" follows a young assistant for a law firm (Radcliffe) who is dispatched to a remote town to wind down the paperwork for a recently deceased woman. While there, he quickly discovers that the townspeople are convinced the area is haunted by a spectre — the woman in black — who is killing children to avenge her own son being taken from her.
The film is great at ratcheting up the tension and Radcliffe shines as the outsider caught amidst a ghostly infestation. To delve more into the film, we enlisted Radcliffe for our Call-In Commentary series, where filmmakers and stars provide narration to their movie trailers. In the video below, hear the star describe the origin of the movie's spooky toys, how his girlfriend wound up in the film, what director James Watkins added to the story and more. "The Woman in Black" opens in theaters this Friday.
video player loading
.
.
.
MORE CALL-IN COMMENTARIES:
– Watch "The Innkeepers" trailer with writer-director Ti West
– Watch a "Filly Brown" clip with directors Youssef Delara & Michael D. Olmos
– Watch "The Divide" trailer with its star, cult fave Michael Biehn
– Watch the "Newlyweds" trailer with writer/director/star Ed Burns
– Watch the "Loosies" trailer with writer/star Peter Facinelli
– Watch the "Shame" trailer with writer-director Steve McQueen
View more Call-In Commentaries…
Will you be checking out "The Innkeepers"? Let us know in the comments below, or on Facebook or Twitter.