"The Hunger Games" Super Bowl Trailer: Our five favorite new scenes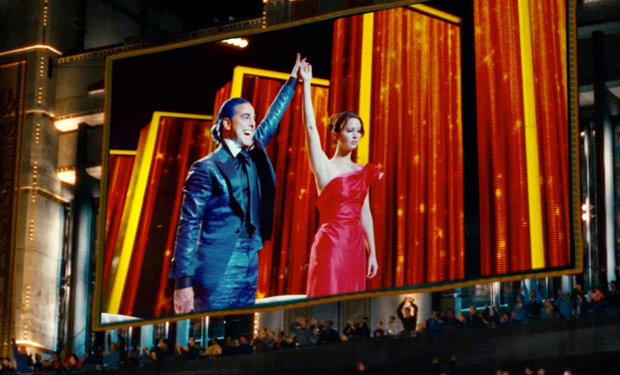 Posted by Terri Schwartz on
With less than two months to go until "The Hunger Games" hits theaters, the odds are ever in the film's favor. The latest trailer for the movie still hasn't given us many shots from the actual Hunger Games — sorry, but Katniss with a bow and arrow dodging fireballs in previously released footage doesn't really count — but there are still plenty of new scenes to dissect and analyze.
Fortunately for all of you, we have compiled a list of our five new moments from the trailer for your viewing pleasure. Who knows if there will be a third (longer) theatrical trailer before the movie hits theaters and IMAX on March 23, so we might as well occupy our time with these stills to help make the passage of time easier.
---
Katniss gives Prim the Mockingjay pin
This is a bit of a change from the book-version of "The Hunger Games," but one that we're okay accepting. Technically it's supposed to be Madge who gives Katniss (Jennifer Lawrence) the pin right before she heads off to the Capitol to compete in the Hunger Games, but this scene switches the story around. Here Katniss gives the pin to her sister, Prim, so "nothing bad will happen." Unfortunately that doesn't quite happen — Prim gets picked as a tribute in the Games — so there will likely be another scene later on where Prim gives the pin back.
---
President Snow welcomes potential tributes
Donald Sutherland's President Snow doesn't get much screentime in "The Hunger Games," but he does at least get to appear in a video welcoming potential tributes to the District 12 Reaping. We're not sure if this is one of the two new scenes Sutherland will have in the movie (it seems like those will be completely new to the story) but, either way, it's chilling to hear him say, "Happy Hunger Games!"
---
"What did you say to your sister when you volunteered at the Reaping?"
That is the question poised by Caesar Flickerman (Stanley Tucci) to Katniss during her pre-Hunger Games interview, featured as a new scene in the trailer. "I told her that I would try to win for her," Katniss responds. "And try you will," he says back. We love the chance to see Tucci show off the over-exaggerated emotional scale of Flickerman.
---
Katniss watches Peeta's interview
Just as Katniss's interview is featured in this teaser, so is Peeta's (Josh Hutcherson). She looks on as Peeta charms Caesar Flickerman while wearing a red and black suit that matches her Girl on Fire dress. It's clear from the look on her fact that she's still trying to figure out if he is her friend or foe doing into the Hunger Games.
---
Cinna gives Katniss her pin
This ending is not quite as good as the first theatrical trailer's countdown to the beginning of the 74th Hunger Games, but it comes close. Cinna (Lenny Kravitz) pins Katniss's Mockingjay pin onto her shirt lapel only seconds before she enters the Games, and then shushes her so she won't alert anyone. That pin ends up becoming the symbol that represents Katniss in the future "Hunger Games" books. Talk about a good stylist.
---
---
Are you excited to see "The Hunger Games"? What was your favorite new scene? Tell us in the comments section below or on Facebook and Twitter.