"The Avengers" cast offers insights into their superhero characters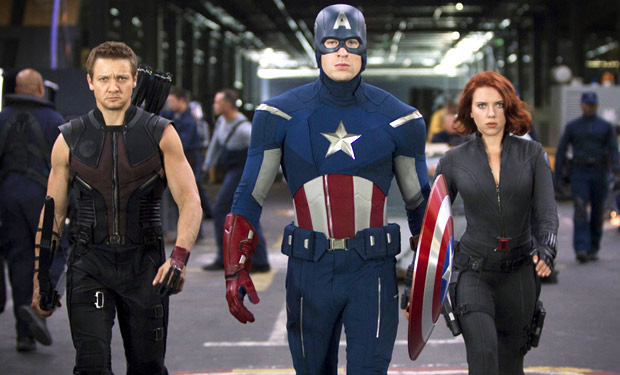 Posted by Terri Schwartz on
A new "The Avengers" trailer headed to the web today and an awesome new poster premiered yesterday, so it should come as no surprise that we're sort of in the middle of "Avengers" mayhem right now. The flick won't hit theaters until May 4, but that doesn't mean that we'll stop analyzing every word the cast says about the project in anticipation of its release.
Fortunately, Entertainment Weekly just offered us a lot of words. The magazine posted some snippets of their interviews with six of the movie's main stars talking about their characters in "The Avengers." No big surprises here, but plenty worth talking about.
Robert Downey Jr. discussed how he is trying to find balance between the Tony Stark that we all met and loved in the "Iron Man" movies and the one who is part of a team in "The Avengers." He expressed his excitement that the project ended up coming together.
"'Avengers' has always been this kind of hovering [thing]. Is it really possible? I just think that it was an incredibly ambitious notion, and looking back at Marvel and their fledgling years, they always had a vision of this… although not entirely accurately," he said with a laugh. "In one teaser I say, 'I'm putting a team together,' and in the other one I'm like, 'What do you mean I can't join the team?' But aside from that, it kind of really tracks through."
Mark Ruffalo then went on to tease the role Bruce Banner plays in the movie considering we haven't seen him back since "The Incredible Hulk" days. "[Banner] starts like he's sober in a weird way. He's started a whole new life when we find him, and it's cool," Ruffalo said. That doesn't last for long though.
"The rage is something that is like going on a binger — you wake up after a blackout and you did all this fucked up shit," Ruffalo said. "Oh God, what did I do? And so we were talking about it like that, actually."
Banner isn't the only character to be shellshocked by his new surroundings. Captain America, who will be the central character in "The Avengers," wakes up in the present after last being alive in World War II and doesn't make the transition too well at first.
"Who does he have in the world? Nobody," Chris Evans said. "Rogers is kind of defined by is his morals and values. In the '40s there was much more of value on those things. Things are a little more impersonal these days. It just lends itself to his sense of isolation."
Thor seems to have taken the adjustment in stride, though.
"There's a maturity to the character because of the journey he went on, certainly. He was a petulant sort of kid at the beginning of 'Thor,' and by the end of it hopefully you walk away thinking that he is matured and there was a grounded quality to him that wasn't there before," Chris Hemsworth said. "He's not quite the odd one out as much as he was in 'Thor.' These guys … one of them wears an iron suit, one of them turns into a big, green monster. They all have these crazy personalities, and alter egos. They're misfits, and that's how they fit, in a funny way."
But what about the two non-superhero Avengers? Jeremy Renner and Scarlett Johansson both opened up about how their human characters are set apart from the rest of the bunch.
"I'm on such the periphery," Renner said. "By nature of being a sniper on top of a building, the behavior of a sniper is a loner. He gets a call and comes and does his thing."
"The Widow has no time for romance. She's a lover of all things. She has a love/hate relationship with I think everyone she meets in some way," Johansson said. "Part of what makes her sexy is she takes no prisoners. You wouldn't grab her for a big old bear hug."
Are you excited for "The Avengers"? Tell us in the comments section below or on Facebook and Twitter.