"The Artist" star James Cromwell explains what makes the Oscar winner "special"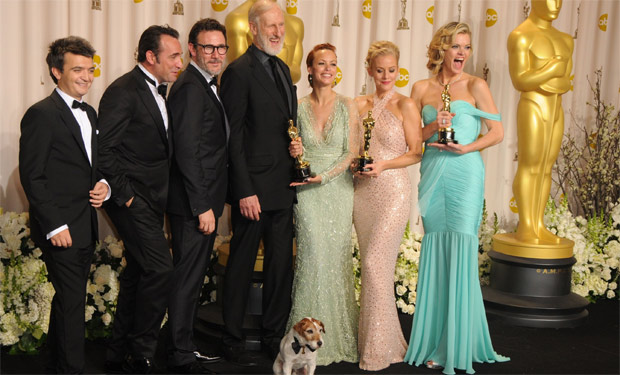 Posted by Terri Schwartz on
It's official: "The Artist" is the best picture of the year. The Golden Globes said it, the Spirit Awards said it, and the Oscars have now said it as well. It was hard not to be charmed by the black and white indie silent film that could, and it was clear from the get-go that this was going to be a special picture.
Sometimes while filming a movie, especially one as tiny as "The Artist," it's hard to imagine that one day it will be honored at a venue as large as the Academy Awards. But when IFC caught up with star James Cromwell on the Spirit Awards red carpet, he said it was clear all along that "The Artist" was going to be unique.
"It was going to be special because you don't make a black and white film very often. So I knew it was special," he said "The question was: Is anyone going to get a chance to see it? And when they saw it, was it going to be any good, or is it just a gimmick?"
He added, "I knew it wasn't a gimmick. I knew that [director] Michel [Hazanavicius] had a vision, that that vision just was so realized and that it affects audiences the way it does is the big surprise to me and everybody else."
So does that mean we will start seeing a resurgence of black and white films or silent films or some combination of the two now that "The Artist" has found its success? Cromwell doesn't think so, but he does think that "The Artist" will go on to inspire filmmakers in its own way.
"The trend will be that young filmmakers all over the country and all over the world will say I don't have to make a film in the convention of a Hollywood film, or I don't have to that write film. I can make the film that I see in my heart and in my mind and in my imagination, and that will be a big service to artists everywhere," he said.
That's why it's important that independent filmmaking stay around, and that awards shows like the Spirit Awards that honor independent film stay relevant. Cromwell said that respect for independent filmmaking is why he loves coming to the Spirit Awards year after year.
"These are the people who make those types of films," he said. "If you went to a major studio and said we want to do a black and white silent film, you wouldn't get past the secretary." Well, maybe now you would.
Do you agree with Cromwell's concept of how "The Artist's" success will influence future filmmakers? Tell us in the comments section below or on Facebook and