First "Amazing Spider-Man" clip shows Peter Parker fighting Gwen Stacy's doorman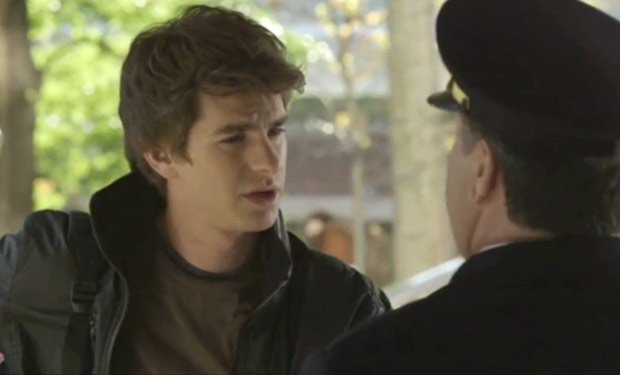 Posted by Terri Schwartz on
"The Amazing Spider-Man" might pit Peter Parker (Andrew Garfield) up against the Lizard (Rhys Ifans), but first he's going to have to get through the Doorman. The first clip from Marc Webb's upcoming superhero movie has hit the web, and it doesn't paint Parker as the same cool, calm and collected guy that Spider-Man will later become.
The clip comes courtesy of the new viral website MarkOfTheSpider-Man.com. In it, Peter tries to enter Gwen Stacy's (Emma Stone) apartment complex, but her doorman stops him. Peter stutters over his reason for meeting with her, resulting in the doorman becoming suspicious and refusing Peter entrance until he can see what's in his bag. That's likely why he ends up telling Gwen that her doorman is pretty intimidating in "The Amazing Spider-Man" trailer.
So what was it in the bag? It seems to be Peter's Spider-Man suit, thus revealing it would show the world that he is the webbed superhero. But maybe it was also something pertaining to Oscorp, the company where Gwen works with her boss — and soon-to-be supervillain — Dr. Curt Connors? Maybe it actually was just a love note for Gwen that Peter was too embarrassed to show. It seems like we'll have to wait until July 3 to find out for sure.
Starring Andrew Garfield and Emma Stone, "The Amazing Spider-Man" focuses on Peter Parker's journey to discover the secret of his parents' early death. That brings him face-to-face with Dr. Curt Conners, played by Rhys Ifans, who ends up becoming the film's villain, The Lizard. Turns out that, when you reveal some secrets, you end up becoming scaly.
What did you think of this new clip? Tell us in the comments section below or on Facebook and Twitter.