Lost Memories: Our 10 favorite amnesia movies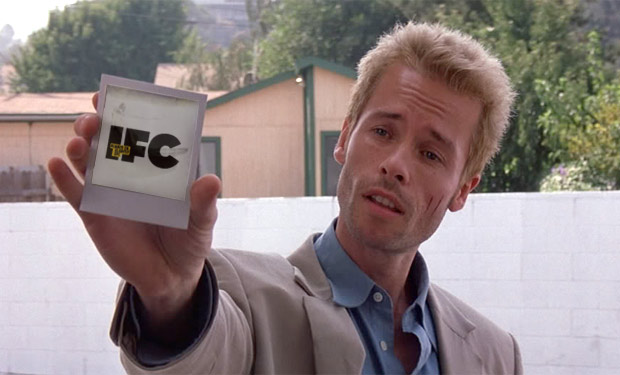 Posted by Scott Neumyer on
Movies have dealt with the issues of memory and, specifically, amnesia since as far back as the 1932 Greta Garbo-starring As You Desire Me (and possibly even farther). Lost memories have become a go-to movie trope over the past few decades, with varying levels of success, and with the latest film to tackle the issue (the Channing Tatum and Rachel McAdams vehicle The Vow) hitting theaters this weekend, we thought it might be a good time to round up some of the coolest amnesia movies we've ever seen. Write them down before you forget them!
---
"Memento" (2000)
Remember way back before the year 2000 when no one really knew who Christopher Nolan was? I certainly do. Then this little film called "Memento," starring Guy Pearce and Carrie-Anne Moss, premiered in September at the Venice International Film Festival to vast critical praise and it began to pick up steam as it rolled out to a wider audience. Before we knew it, "Memento" rode its non-linear structure, fantastic performances, and little sticky notes all the way to box office success and Academy Award nominations for Original Screenplay and Film Editing. The Nolan the world would come to know for his brilliant reinvention of the Batman series and for the genius mind-bending film Inception was born.
The thing that makes "Memento" such incredibly compelling cinema, aside from those fantastic performances and the aforementioned non-linear structure, is its ingenious use of a very unique brand of amnesia. Leonard Shelby (Guy Pearce) has anterograde amnesia, which means he can't store any new memories. He spends the entire film jotting down new information on sticky notes (so he can actually keep track of his life without the assistance of a properly functioning memory) while he tries to put together the pieces of his own personal mystery. It's an interesting take on the amnesia trope and a hell of a film that showed everyone the kind of talent that Christopher Nolan would soon be known for worldwide.
http://www.youtube.com/watch?v=Ch9Y-fcGlKs
---
"The Long Kiss Goodnight" (1996)
Three years before Renny Harlin started genetically engineering Mako sharks to eat Samuel L. Jackson, he chose the actor to star alongside Geena Davis in one of the great amnesia movies of our time – "The Long Kiss Goodnight." Written by the great Shane Black ("The Monster Squad," "Lethal Weapon"), "The Long Kiss Goodnight" tells the story of Samantha Caine (Geena Davis), a mother and teacher in Pennsylvania who was found, washed up on a New Jersey beach, pregnant, injured, and suffering from complete amnesia. (Think Snooki in about three more years). After searching for the next eight years or so, Caine finally discovers that she's actually Charly Baltimore, an assassin for the CIA. She finally starts recovering some of those memories, turns all badass, hangs out with Samuel L. Jackson and kicks ass all over the place. It's maybe the most feel-good case of amnesia on this list. Either way, it makes for some great cinema in what has become a classic of the amnesia film subgenre and the action film genre.
---
"Total Recall" (1990)
Nearly ten years after Arnold Schwarzenegger hit the big time by playing Conan the Barbarian and Conan the Destroyer, the actor was still one of Hollywood's hottest tickets. Wrapped around the 1990 release of "Total Recall," Schwarzenegger would star in hits like "Predator," "Twins," "Kindergarten Cop," "Terminator 2: Judgment Day," and "True Lies." That's a hell of a resume. Teaming up with director Paul Verhoeven ("RoboCop," "Basic Instinct") brought Ahhhhnold on the set of one of the weirdest amnesia films of all time – the sci-fi actioner "Total Recall." Schwarzenegger stars as Doug Quaid, a construction worker who is really a secret agent that eventually ends up having to travel to Mars to figure out who he really is and why his memory was erased. He's good. He's bad. He's a creepy killing machine from Mars. He becomes the first person (or thing) in a movie to tear off Michael Ironside's arms. It's a role only the Governator could love and one that he'll likely never forget (even if his character would).
---
"Dark City" (1998)
Between 1994's The Crow and 1998's Dark City Alex Proyas seemed poised to be the next director to take Hollywood by storm with his dark, gothic neo-noir vision and technical prowess. Then he made I, Robot in 2004 and Knowing in 2009 and all the good will he earned with his early work went down the drain. We're hoping he returns to form in 2013 with Paradise Lost but, regardless, we can always appreciate the amazing amnesia-centric film he crafted in Dark City. Sporting an all-star cast of Rufus Sewell, Keifer Sutherland, Jennifer Connelly, and William Hurt, Dark City starts with John Murdoch (Sewell) waking up in a hotel bathtub with a bad case of amnesia. He's soon accused of murder and spends much of the film trying to clear his name by learning his true identity, all while on the run from both the police and the "Strangers." And that's just what's going on right on the surface of this intelligent, creepy neo-noir sci-fi film. If you've never seen it, grab a copy of the Director's Cut and consider yourself in for a real treat.
---
"The Bourne Trilogy" (2002-2007)
The 2002 debut of Doug Liman's The Bourne Identity marked the beginning of what would eventually become one of action film's greatest franchises. Starring Matt Damon as Jason Bourne, an amnesiac who spends three films trying to discover his true identity, and loosely based on Robert Ludlum's novels, the film made a ton of money at the box office and turned Damon into a veritable action hero. Paul Greengrass picked up where Liman left off with The Bourne Supremacy in 2004 and The Bourne Ultimatum in 2007. Each film ratcheted up the realistic action that the series would become known for, gave Bourne a bit more information to process about his identity, and upped the ante for what action spy films could do without the extensive use of CGI. All three films revolve around Bourne's amnesia and handle it in a way that's both inventive and exciting. The only thing I'd like to forget about this series is the fact that Universal is likely moving forward on another Bourne film without Matt Damon.