"Star Trek 2" video shows Zachary Quinto and Benedict Cumberbatch fighting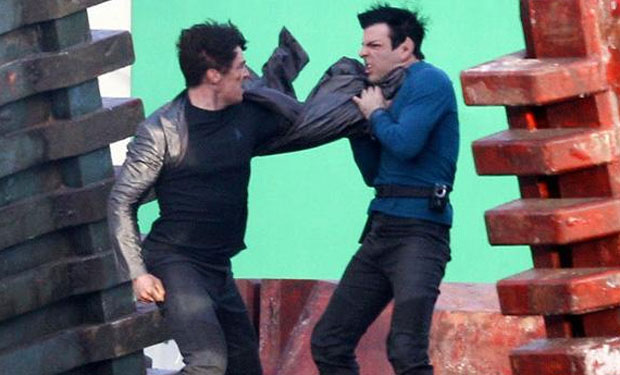 Posted by Terri Schwartz on
If you thought those leaked "Star Trek 2" pictures of Zachary Quinto and Benedict Cumberbatch fighting were cool, just wait until you see this video.
For whatever reason, it seems like Cumberbatch's villain and Quinto's Spock are not big fans of one another. The two duke it out pretty intensely in the video below, and it seems as though this showdown is one of the major action set pieces in the movie. The latest rumor regarding Cumberbatch's character is spoiler alert that he's playing Spock's half-brother Sybock from "Star Trek V: The Final Frontier." There's no official confirmation of that being Cumberbatch's role, but it would explain all the bad blood between the two men during this fight.
When IFC caught up with Quinto recently at the Spirit Awards, he explained that he and Cumberbatch had been rehearsing that scene for five days. The cameras weren't rolling during that time, so all you're seeing in the above video is the fight's choreography being practiced, but it looks badass all the same.
That being said, someone is going to get in some big trouble for leaking this video onto the Internet. If director J.J. Abrams was peeved about the pictures being put online, we can only imagine what he thinks of this.
"The picture leaking did not go over so well. They're go to great lengths to preserve security," Quinto said.
"Star Trek 2" is due out in theaters on May 17, 2013. It also stars Chris Pine, Simon Pegg, Anton Yelchin, Karl Urban, John Cho and Alice Eve.
What's your take on Cumberbatch and Quinto's fight? Tell us in the comments section below or on Facebook and Twitter.