Spend Valentine's Day with "Alien" and "Alien 3"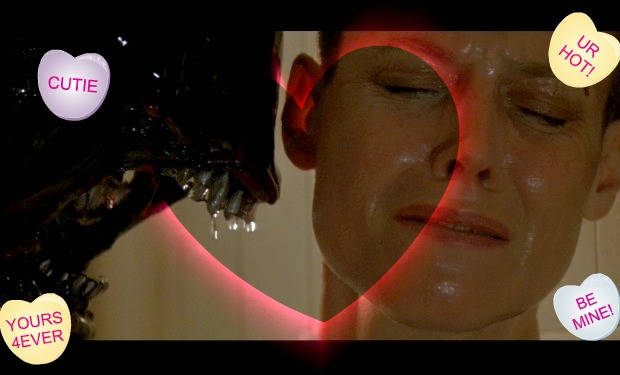 Posted by Melissa Locker on
Roses, chocolate, champagne, and a vicious alien eager to destroy you and everyone you know. Do we have the recipe for a perfect Valentine's Day or what? This February 14th, grab your favorite someone and settle into the couch for a double feature of "Alien" and "Alien 3." Ridley Scott introduced the world to the face-sucking stomach-erupting egg-laying space monstrosity in "Alien" way back in 1979. David Fincher made his big-league directorial debut in "Aliens 3" in 1992. While the movies came out a while ago, we assure you that the terror doesn't diminish. Squeeze your sweetie extra tight, because while in space no one can hear you scream, your neighbors will totally call the cops on your ass, so hold it in.
We've whipped up a little promo to show the more romantic side of Ellen Ripley (Sigourney Weaver) and her exoskeletony paramour predator. Please to enjoy and then tune in on Valentine's Day or we eat all the heart-shaped chocolates:
video player loading
.
.
.
"Alien" airs on IFC on Feb. 14 at 8 PM ET followed by "Aliens 3" at 10:30 PM ET