"Snow White and the Huntsman" image shows Kristen Stewart battling off evil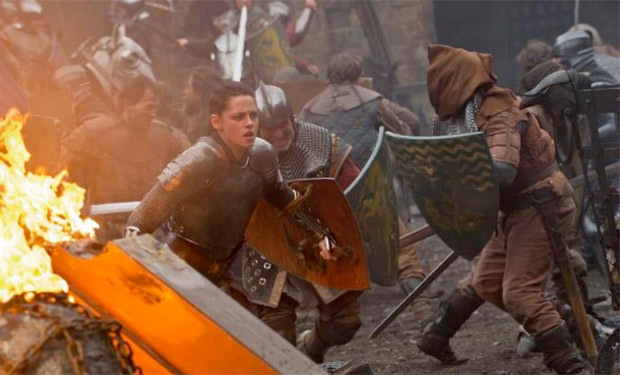 Posted by Terri Schwartz on
Kristen Stewart might have last graced the big screen as a pregnant damsel in distress, but the newest image from "Snow White and the Huntsman" is showing that she soon will be a force to be reckoned with. Stewart's Snow White is a battle-ready fair maiden in the shot, decked out in armor, a sword and shield, and one intimidating ponytail.
It's nice to see this side of Snow White being promoted, as she was noticeably largely absent from the previously released trailer. The movie looks heavier on the action than it is on the romance, and that's something we're grateful for. "Snow White and the Huntsman" might be director Rupert Sanders' feature debut, but he's proven in his commercials that he definitely has a great sense for action. Seriously, his "Halo 3: ODST" commercial was the coolest.
As you can likely tell from the above photo, "Snow White and the Huntsman" veers off a bit from the classic Snow White fairytale. An evil queen, played by Charlize Theron, sentences Stewart's Snow White to death to prevent her from becoming the fairest in the land. She enlists the help of a huntsman, played by Chris Hemsworth, and sends him to kill the fair maiden. But instead he ends up helping to train her to fight back against the queen and eventually defeat her.
Oh yeah, and the movie also has a not-so-charming Prince Charming, played by Sam Claflin, and eight dwarves instead of seven. We're sold.
"Snow White and the Huntsman" hits theaters on June 1.
What do you think of the new "Snow White and the Huntsman" image? Tell us in the comments section below or on Facebook and Twitter.