Seth Rogen on Jonah Hill's Oscar nomination: "He's f–king psyched about it"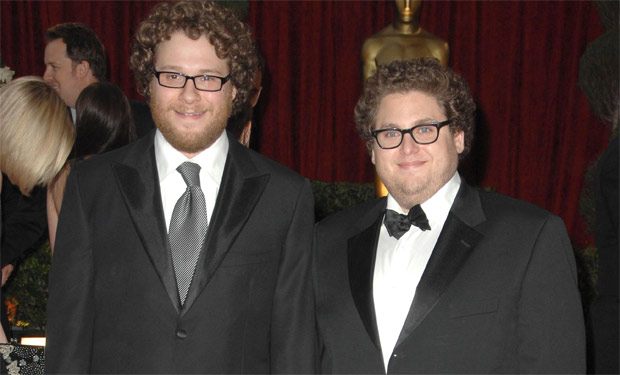 Posted by Terri Schwartz on
When Jonah Hill first was announced as a cast member in Brad Pitt's "Moneyball," it seemed like a strange fit for an actor best known for his comedic roles in films like "Superbad" and "Accepted." But once the film came out, it was clear that Hill had given his best performance to date. He's since earned a Best Supporting Actor nomination for the role, and in our opinion definitely deserves it.
Hill's good friend and frequent costar Seth Rogen agrees. IFC got a chance to participate in a chat with the upcoming Spirit Awards host and asked him for his thoughts about Hill's nomination. Rogen said he was more surprised that the Oscars recognized Hill's great performance than he was that he was nominated.
"All my friends are talented enough to get nominated for awards," Rogen told IFC. "I just am always surprised when things and people I like are also liked by, you know, things like the Oscars."
The Oscar nominations were announced at the end of January, and Rogen said he has had a chance to talk to Hill since he found out he was up for an Academy Award. Unsurprisingly, Rogen said Hill is "fucking psyched about it."
But it wasn't that moment that made Rogen realize that he and his comedian friends actually had earned the attention of the Academy of Motion Picture Arts and Sciences members. Instead, it was in 2004 when "Million Dollar Baby" took home four Oscars including Best Picture and Best Director. Rogen recounted to IFC how he and his best bud Jay Baruchel, who was in the movie, were watching the Oscars together that year, and Baruchel got a shout-out from director Clint Eastwood.
"I literally remember we were like stoned off our asses watching the Oscars in my tiny shithole apartment and Clint Eastwood won and thanked Jay, who was sitting right next to me in his underwear on my couch," Rogen remembered. "That was the first moment that I realized, 'Oh, me and my friends, the people who do these Oscars are actually kind of aware of these guys I'm friends with and it could kind of break through in some way.'"
Even though Rogen repeatedly separated his tastes from those of the Oscar voters ("It's always kind of surprising to me when [their preferences align]," he said), he was also quick to add that he actually is an Oscar voter and thus is "one of these people." It seems fair to assume that Rogen voted for Hill's performance to be nominated, even though his role in "Moneyball" has earned "21 Jump Street" star a new ultra-famous friend.
"It is a little weird to me that he is now friends with Brad Pitt," Rogen admitted. "But he's a friendly dude. He can be friends with Brad Pitt."
Speaking of the Oscars, the one film that (at least in our opinion) was unfairly snubbed was "50/50," a movie that Rogen both starred in and produced. Rogen said that it didn't feel like a snub to him because he never honestly expected that "50/50" would get nominated.
"I feel like overall there's very few moments when the Oscars tastes intersects directly with my tastes, so I don't consider it a snub, to be honest. That implies that I assumed it was going to happen," he said, then joked, "Maybe the sequel will get nominated."
---
Watch Seth Rogen host the 2012 Spirit Awards on Saturday, February 25 at 10/9c on IFC. And while you're watching, don't forget to log into IFC.com chat with our movie experts LIVE via IFC Sync, presented by Capital One.
---
Were you surprised when Hill was nominated for an Academy Award? Are you disappointed "50/50" didn't get any Oscar nods? Tell us in the comments section below or on Facebook and Twitter.