Sacha Baron Cohen's Admiral General Aladeen responds to Oscar "banning"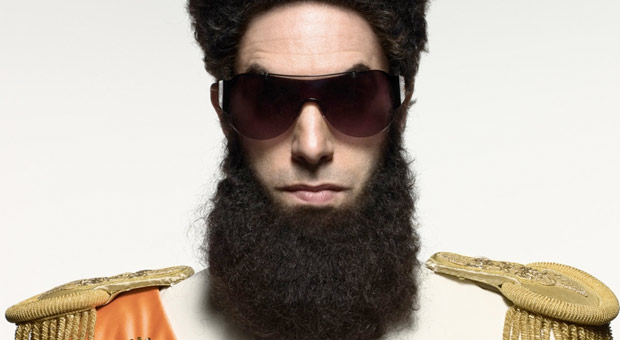 Posted by Aubrey Sitterson on
Earlier this week, the American Academy of Motion Picture Arts and Sciences issued a stern warning to Sacha Baron Cohen, the writer and star of the upcoming mockumentary/extended-performance-art-piece, "The Dictator." After the comedian provocateur stated his intention to appear on the red carpet as the fictional Admiral General Aladeen, the Academy decided to withhold Cohen's tickets to the event, while presumably waggling a collective, stodgy old man finger. Thankfully, while we might be prevented from seeing Cohen in full military regalia this coming Sunday at the 84th Academy Awards, we can still get all the neck-beard we can stand via a "Today Show" appearance by none other than Admiral General Aladeen himself.
We've been eagerly awaiting "The Dictator" ever since it was first announced, but not just for the inevitable belly laughs it's sure to elicit when we see it in theaters. We're actually just as excited about the unorthodox ways in which Cohen will decide to promote the film in the build-up to its May 11 release date. Promotional barrages for Cohen's previous projects, including "Da Ali G Show," "Borat: Cultural Learnings of America for Make Benefit Glorious Nation of Kazakhstan" and "Bruno," have often been just as entertaining as the films themselves, and if the below video, where Aladeen refers to the esteemed AMPAS as "The Academy of Motion Picture Arts and Zionists," is any indication, we can look forward to more of the same for "The Dictator."
What do you think about Aladeen's message? Will the Academy acquiesce to the Admiral General's demands, and give proper respect to the Republic of Wadiya? Tell us in the comments below or on Facebook and Twitter.