"Robocop" remake eyes Joel Kinnaman for lead role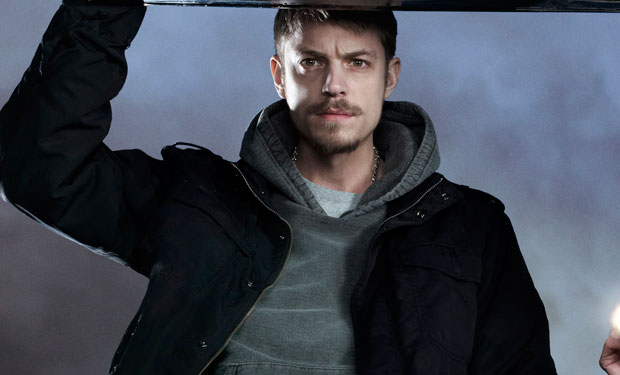 Posted by Terri Schwartz on
Though we still lament the fact that "Arthur & Lancelot" was tabled over at Warner Bros., it's two leading men have managed to find some good work for themselves. "Game of Thrones" star Kit Harington has landed one of the main roles in the flick "The Seventh Son," and now "The Killing's" Joel Kinnaman has been offered the lead part in one of the biggest upcoming reboots being planned.
Variety's Jeff Sneider tweeted the news that Kinnaman has been offered the title role in the MGM remake of "Robocop" that is being directed by "Elite Squad's" Jose Padilha. The Hollywood Reporter further fleshed out the news by saying that they expect the deal to come together "imminently."
It would be a big step up for Kinnaman, who has earned acclaim for his role in "The Killing," but thus far has only appeared in small roles in films like "The Girl with the Dragon Tattoo," "Safe House" and "The Darkest Hour." This would be his largest role to date, and the first time he's had a major blockbuster rest on his shoulders.
The casting decision (which isn't set in stone yet, we should note) is somewhat reminiscent of the decision to cast Taylor Kitsch, best known for his role as Tim Riggins on "Friday Night Lights," as the lead in two big blockbusters this year: "John Carter" and "Battleship." His star power is thus far untried, so if he isn't enough to draw in the crowds then the movies will likely fail. Both are tracking fairly well, but it's a large burden to place on any actor's shoulders, especially one just breaking in to the movie scene.
MGM's remake of "Robocop" is being described as a gritty origin story, so there's certainly room for Kinnaman to come in and carve out his place in the franchise. It certainly is a casting choice that makes sense, and it's nice to see that Kinnaman is being recognized for the great work that he is doing on the small screen. Expect an official confirmation on the casting decision for "Robocop" over the next few weeks.
Do you think that Kinnaman is a good fit for "Robocop"? Tell us in the comments section below or on Facebook and Twitter.