Reality Bites: Tim Grierson on "Act of Valor" and the problem with authenticity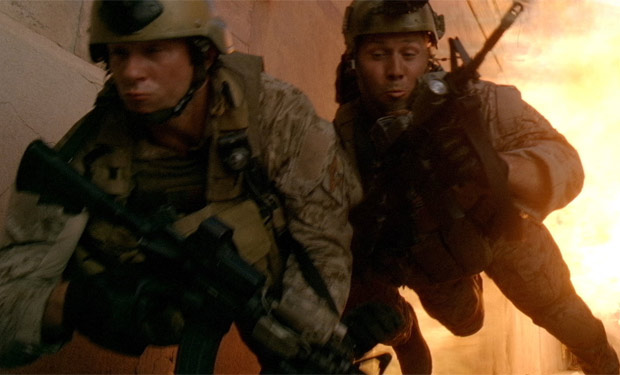 Posted by Tim Grierson on
For an industry that makes its money selling make-believe, Hollywood sure gets hung up on authenticity from time to time. Whether it's the stars of "Saving Private Ryan" going through a modified boot camp to prepare for their roles or the producers of "Moneyball" casting real baseball scouts to appear alongside Brad Pitt's GM character, studios will occasionally trumpet the lengths they go to make their movies as believable as possible. (Or, in the case of the found-footage genre, the lengths they'll go to make a fictional horror film look like a documentary.)
The latest film to make a virtue of its realism is the action movie "Act of Valor," which features actual Navy SEALs in the main roles. And while that decision has some benefits, I couldn't help but keep thinking one thing while watching "Act of Valor": Do people really care how authentic movies are?
As you may have heard, "Act of Valor" started out as a Navy recruitment video from commercial directors Mike "Mouse" McCoy and Scott Waugh before morphing into a feature film about a team of SEALs who have to stop a terrorist plot within the U.S. The directors, who got permission to use official military hardware like submarines and helicopters, decided they had to have SEALs and not actors as their protagonists. As Waugh explained to the Los Angeles Times, "My analogy to them was, 'Take "Top Gun," pull Maverick out, and put in the real Maverick.'" If all that's not enough authenticity for you, they also used real ammo during the fight scenes, and there's no CGI in the movie.
When you're making an historical drama, it's understandable that you'd want the events you're depicting to be as close to what really happened as possible. (Although as last year's Oscar-winning "The King's Speech" demonstrates, you can fudge a fact or two and most people won't mind.) But with action flicks, does it matter? Lots of producers think so: Many movies cooperate with the Department of Defense to gain access to military equipment or information. But with "Act of Valor," the filmmakers wanted to go a step further by showing what the lives of the clandestine SEALs are really like. But even then there's some secrecy: The two main characters, Chief Dave and Lt. Rorke, are played by SEALs named Dave and Rorke, although their full names are never revealed. (Their real-life wives and kids are also in the film.)
Incorporating actual soldiers and their families is a decent way to drive home these heroes' reality. (We see them as they say goodbye to their loved ones, who know nothing about where they're going, other than it'll be someplace incredibly dangerous.) Nonetheless, "Act of Valor" can't help but suffer because, well, these guys are Navy SEALs. They're not actors — that's not their job. Consequently, when it comes to making us care about them as people in the context of a piece of entertainment, it never quite works because they don't have the dramatic faculties for it. As has been noted in a few reviews, the weird irony of "Act of Valor" is that because actors play the bad guys — casting real-life terrorists might have been a little difficult — they're a lot more compelling than the good guys. It's the downside to that need for authenticity: Fiction films are, ultimately, about pretend, which requires skills that go beyond being the actual person that you're playing. (Plus, no matter how convincing the producers want things to be, some artificiality is inevitable — unless all the baddies we see shot in the head by SEAL snipers really were killed, of course.)
That said, there are advantages to the filmmakers' quest to keep things real. While I hope it doesn't inspire would-be Spielbergs in the audience to film their action scenes with live ammo, a couple firefights in "Act of Valor" have a spark to them simply because of the fact that you're seeing what genuine gunfire looks like in a battle. And because of their training, the film's Navy SEALs have a brutal, steely efficiency in the action sequences that's less showy than what you normally see in war movies. You get the idea that these guys don't mess around and that they're total pros — even if no one's told them that if they really want to be movie stars, they ought to come up with witty lines whenever they kill the bad guys.
But in the end, those moments of realism don't add a lot to what makes people supposedly want to see movies in the first place. "Act of Valor" doesn't have great characters, and its story is a pretty dull globetrotting race against time. So why did the film do so well commercially this past weekend, easily surpassing insiders' box office predictions?
The answer may lie in the trailers I saw before "Act of Valor." In trailer after trailer — whether it was for "John Carter" or "The Raven" or "G.I. Joe: Retaliation" — I was struck by how effects-heavy and, honestly, fake they all seemed. They could all be great films, but with our current obsession for CGI, we're inundated with action movies in which everything is possible but not much looks real. "Act of Valor" is a forgettable film, but its success this weekend is a reminder that there's always an audience craving something that feels a little truer. We all love the escapism of movies, but sometimes the illusion of authenticity can seem pretty appealing as well.