Adam Sandler earns record-setting 11 nominations for annual Razzie Awards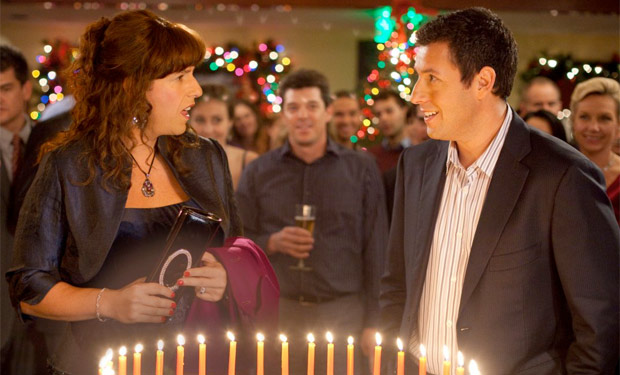 Posted by Terri Schwartz on
It seemed a bit ironic that Adam Sandler appeared in so many of the short video presentations during last night's Academy Awards as not a single one of his films was up for an award this year. In fact, not only were they not up for an award, they were busy setting the record for highest number of Razzie nominations for a single actor. Maybe that's just the type of stuff the Academy of Motion Picture Arts and Sciences thinks appeals to the masses?
Whatever the reason for his big presence at the Oscars, Sandler had nothing to be proud of this weekend. His films earned a record-breaking 11 nominations at the Razzies, more than doubling the number of nods for the last title-holder (Eddie Murphy scored five nominations in 2007 for his work in "Norbit"). In addition, his film "Jack & Jill" went on to receive 12 nods at the Razzies, an impressive achievement for both the film and for Sandler as there are only 10 categories to be nominated in.
Maybe this is a sign actors should stop trying to play multiple roles in comedies? Let's face it, it hasn't worked since "The Nutty Professor," and that was over a decade ago. Sandler was also up for awards thanks to his work in "Just Go With It" and for producing "Bucky Larson: Born To Be A Star," but it was "Jack & Jill" that earned him top honors.
But he wasn't the only one to be lambasted at this year's Razzies, which will be held April 1st (natch). "The Twilight Saga: Breaking Dawn — Part 1" earned eight nominations and "Transformers: Dark of the Moon" landed seven. Still, we'd be surprised if any film but "Jack & Jill" took home the prizes they're nominated for. This could be the first year a movie sweeps every award at the Razzies. Maybe that will be a nice wake-up call for Sandler.
The real question, though, is whether or not Sarah Palin will show up to the ceremony to represent her nomination for "Sarah Palin: The Undefeated"? Fingers crossed!
Here's the full list of nominees:
WORST PICTURE
"Bucky Larson: Born To Be A Star"
"Jack & Jill"
"New Year's Eve"
"Transformers: Dark Of The Moon"
"The Twilight Saga: Breaking Dawn — Part 1"
WORST ACTOR
Russell Brand ("Arthur")
Nicolas Cage ("Drive Angry, "Season Of The Witch, " "Trespass")
Taylor Lautner ("The Twilight Saga: Breaking Dawn — Part 1," "Abduction")
Adam Sandler ("Jack & Jill, " "Just Go With It")
Nick Swardson ("Bucky Larson: Born To Be A Star")
WORST ACTRESS
Martin Lawrence ("Big Mommas: Like Father, Like Son")
Sarah Palin ("Sarah Palin: The Undefeated")
Sarah Jessica Parker ("I Don't Know How She Does It, " "New Year's Eve")
Adam Sandler ("Jack & Jill")
Kristen Stewart ("The Twilight Saga: Breaking Dawn — Part 1")
WORST SUPPORTING ACTOR
Patrick Dempsey ("Transformers: Dark Of The Moon")
James Franco ("Your Highness")
Ken Jeong ("Big Mommas: Like Father, Like Son, " "The Hangover Part 2," "Transformers: Dark Of The Moon," "Zookeeper")
Al Pacino (playing Al Pacino in "Jack & Jill")
Nick Swardson ("Jack & Jill," "Just Go With It")
WORST SUPPPORTING ACTRESS
Katie Holmes ("Jack & Jill")
Brandon T Jackson ("Big Mommas: Like Father, Like Son")
Nicole Kidman ("Just Go With It")
David Spade ("Jack & Jill")
Rosie Huntington Whiteley ("Transformers: Dark Of The Moon")
WORST SCREEN ENSEMBLE
"Bucky Larson: Born To Be A Star"
"Jack & Jill"
"New Year's Eve"
"Transformers: Dark Of The Moon"
"The Twilight Saga: Breaking Dawn — Part 1"
WORST DIRECTOR
Michael Bay ("Transformers: Dark Of The Moon")
Tom Brady ("Bucky Larson: Born To Be A Star")
Bill Condon ("The Twilight Saga: Breaking Dawn — Part 1")
Dennis Dugan ("Jack & Jill," "Just Go With It")
Garry Marshall ("New Year's Eve")
WORST PREQUEL, REMAKE, RIP-OFF OR SEQUEL
"Bucky Larson: Born To Be A Star"
"The Hangover Part 2"
"Jack & Jill"
"The Twilight Saga: Breaking Dawn — Part 1"
WORST SCREEN COUPLE
Nicolas Cage, and anyone sharing the screen with him in his three 2011 movies
Shia LaBeouf and Rosie Huntington-Whiteley ("Transformers: Dark of The Moon")
Adam Sandler and Jennifer Aniston or Brookyln Decker ("Just Go With It")
Adam Sandler and Katie Holmes, Adam Sandler or Al Pacino ("Jack & Jill")
Kristen Stewart and Taylor Lautner or Robert Pattinson ("The Twilight Saga: Breaking Dawn — Part 1")
WORST SCREENPLAY
"Bucky Larson, Born To Be A Star" (Written by Adam Sandler, Allen Covert and Nick Swardson)
"Jack & Jill" (Screenplay by Steve Koren & Adam Sandler, Story by Ben Zook)
"New Year's Eve" (Written by Katherine Fugate)
"Transformers: Dark Of The Moon" (Written by Ehren Kruger)
"The Twilight Saga: Breaking Dawn — Part 1" (Screenplay by Melissa Rosenberg)