Exclusive premiere: Heartless Bastards "Parted Ways"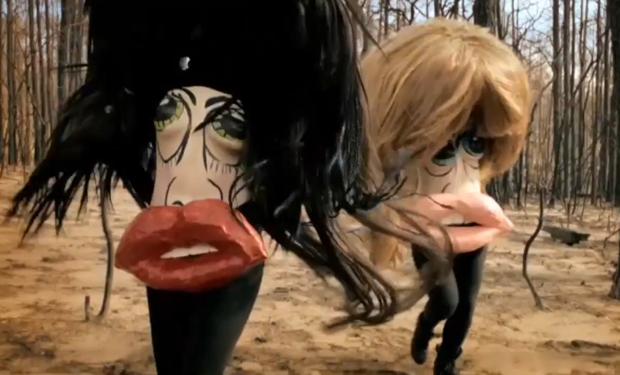 Posted by Brandon Kim on
Austin's Heartless Bastards potentially NSFW video features figures with comically large heads where bare painted breasts have become colossal googly eyes. Austin filmmakers Ben Steinbauer and Berndt Mader shot "Parted Ways" using the backdrop of nearby Bastrop State Park, ravaged last September by a wildfire that claimed over 1,600 homes and tens of thousands of acres of protected pine forest. What's left after drought met tropical winds, a few sparks, and steep budget cuts to the Texas Forest Service, was a hellscape of black timbers and ash. Naturally it's a ripe setting for rock and roll.
"When I was a little kid I used to pull my shirt up over my head and use my stomach as my face, contorting it and talking with it to make my sister laugh," Steinbauer said about coming up with the costume concept. "We decided to expand on that idea and see how far we could take it. We wanted to build a hairpiece that would cover up the actor's face so the effect looks like a face on legs.
In what must have been a pleasant casting experience for the directors, they auditioned "a lot of actresses," but after the huge hairpieces were created they realized that only really tall women would do.  "So we had to scramble at the last minute and ended up casting the photographer from my wedding," Steinbauer recalled. "It was definitely surreal having her in front of the camera and me behind it, after having it the other way around at my wedding."
video player loading
.
.
.
Mader, who co-directed added, "We called in every favor that we could and worked with people we've hired for commercial work over the past few years. We even used a grant I had won at the Dallas International Film Festival from MPS Studios to be able to shoot on the Alexa [high-end digital film camera], which was amazing."
On the calamitous location, Mader made a compelling point. "This wild, post- apocalyptic landscape…. It was a set that might cost 10 million dollars to build for a Tim Burton film, but it was just sitting there outside of Austin for us to use. The landscape is just bizarre, and really heightens the surreal nature of the characters."
Heartless Bastards' new record, "Arrow," released February 14th on Partisan Records.
Do you believe the eyes are the windows to the soul? Let us know in the comments below or on Twitter or Facebook!