Exclusive premiere: Fun. "Some Nights (Intro)"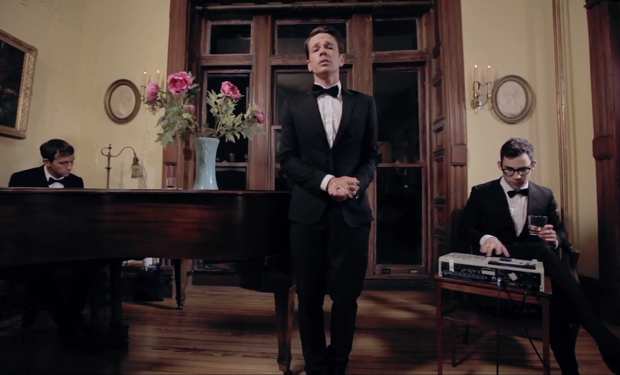 Posted by Brandon Kim on
In this high society soiree, doubling as album opener to Fun.'s sophomore release "Some Nights," lead singer Nate Ruess delivers his lines with all the triumphant vocal theatrics of "A Night at the Opera" era Freddie Mercury. To compliment their cosmopolitan pop-craft, the band sought the inspiration of the most sophisticated and stylish films to create a setting for this "Intro" to live in.
"While we made the album, we started playing movies on mute in the studio for inspiration," multi-instrumentalist Andrew Dost said. "We wanted each song to have some visual touchstones, and in a way everything on the album has a counterpart in film. For example, our song 'One Foot' resonated particularly strongly while 'Baraka' was on the screen, and 'Koyaanisqatsi' influenced other tracks pretty heavily," Dost went on, name dropping two of the most visually engrossing non-narrative films from the last century.
"But one of the most important moments in the studio was when we put on 'Eyes Wide Shut,'" Dost said, turning to the subject at hand and this video they shot with director Poppy de Villeneuve. "It kind of froze the moment… we wanted to capture the feeling of that film, and also the scene in 'The Shining' when Jack Nicholson talks to the ghostly bartender. Basically we wondered what it would be like if Stanley Kubrick made a music video for the intro to our album. Fortunately Poppy was able to bring those ideas to life in a way we really love."
video player loading
.
.
.
"For 'Some Nights' we wanted to create a classic dinner party scenario, a sort of modern day New York 'Great Gatsby' in which the guys would perform for the 'serious' crowd," de Villeneuve said, adding her take on the dapper affair. "I imagined the crowd to actually say very little, but letting the looks and gestures of the guests around say it all and the power of the song and Nate's tremendous voice be "the thing.'" And it certainly is.
"Some Nights" releases today on Fueled By Ramen, and the album is streaming on ournameisfun.com.
Tea parties and twitter, have you ever been so bitter? Let us know below or on Facebook or uh,  Twitter!