Pink Floyd's Nick Mason on flying pigs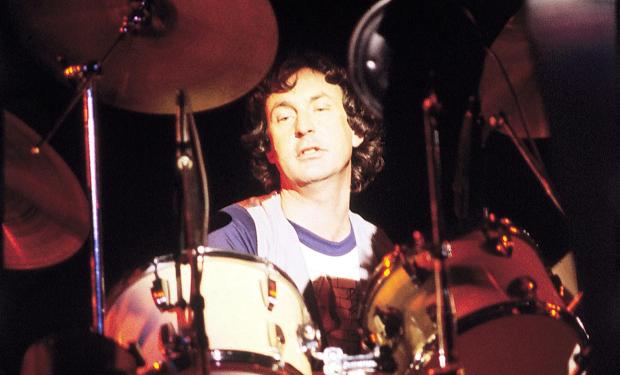 Posted by Brandon Kim on
Race car driver and 1960's/70's handlebar moustache model, Nick Mason, is best known for being the drummer of Pink Floyd. He is also the only founding member who remained from start to finish in a band that had three distinctly different frontmen over the course of four decades. The final piece of the "Why Pink Floyd?" reissue series will be revealed at the end of this month, culminating in two special editions of the climactic Roger Waters' classic, "The Wall." I talked with Mason about this forthcoming release, the early days with Syd Barrett, and about making the right sounds at the right time.
One can't help but notice that you're the only person who's been in the band unbroken from start to finish. It seems like you've maybe brokered some peace agreements in the past too. Are you the easy going one?
I think I am and I think I'm probably the one, unlike the others, that requires other musicians to make it happen. Solo drummers tend to be rather dull. Whether I'm a peacemaker?  I don't think so, I think it's hard to broker peace between two people, but you can certainly sort of keep your head down and stick it out.
How has it been to revisit "The Wall" then?
Oh great! Although we have the reputation of being at each other with knives, clubs and guns most the time, that's actually not quite how I remember it. Even "The Wall," that has a reputation for being the most difficult period, a lot of it was actually very pleasant. it was people getting on and making the record and enjoying working on it. And I like the music, I'm proud of it.
What's your favorite recording now?
The jewel in the crown is the "Wish You Were Here" tape with Stephane Grappelli on it. Because I remember the moment that he came into the studio so well, I mean, I was a big fan of his anyway. It was one of those things where I remembered he played on the record, but I thought we'd recorded over it. So it was an absolute delight when someone went, no, no, we've got it. We found it in the vaults, it's still there. The most peculiar thing about that is why didn't we decide to use it at the time.
Why didn't you?
I have no idea! There must have been discussions saying no, it doesn't work, or we've got something else that has to go on. I have no idea. I keep meaning to ask the others. I don't think they can remember either.
A few days ago NASA released video of the actual dark side of the moon taken by an orbital space craft. Looking back how did the space age influence your sound at the time, or was it more just the tools that were becoming available, new synthesizers and the like?
Funny enough, I don't think it was the space age that influenced that nearly as much as the music technology that was changing, as you say. There was the Moog, although we were very late in Moogs, there was this whole new development keyboards. There were things like the Mellotron and there were things like a lot of guitar effect stuff happened around that time. So fuzzboxes, flangers, you know, all that sort of thing. I think it was "Echoes," part of the sound was actually plugging, plugging foot pedals in, back to front. And of course, all these sort of electronic sounds work very well with the sort of lunar themes and programs on space exploration of which there were a lot at the time. So the things just became sort of intertwined I suppose really.
A happy coincidence then.
Yeah, absolutely. But I think that's very much part of music and success, and all the rest of it, making the right sounds at the right time.
And you did that distinctly well over several different phases, starting with Syd Barrett and that psychedelic sound. But even without the crazy diamond himself, you guys were deeply psychedelic, putting it mildly….
Yeah, except don't forget if we hadn't had Syd, it wouldn't have got off the ground in the first place. There would have been no lift off.
He's inseparable then from the idea of Pink Floyd?
I think so. If you just look at that first album, the first songs — which were the things that got us a record contract into Abbey Road and all the rest of it — without Syd, I mean, you wouldn't even have Interstellar Overdrive. It's just impossible to evaluate what would've existed without Syd in my opinion. I think Roger, at some point, something would've happened, but completely different.
He was very far out there but, you are all pretty far out there, weren't you?
Well initially, I think the rest of us were probably following Syd at the time. And it might have sounded far out, but once Syd was gone, it became much more technical, we became more industrious. Even though part of that was to make the sound become more abstract, but  in order to achieve that, it was a matter of just going into the studio and messing about, so to speak. There was a lot more thought into how to make it work.
Do you have any regrets, to this day about how things were handled with Syd?
Oh God yes. The band politics were handled appallingly from beginning to end. You know, every step of the way. But having said that — we didn't know any better — is what my lawyer's going to tell you [laughter]. I think we all regret that we didn't know how to look after Syd better. And the split with Roger. If we had all known what we know now, I think we could have dealt with it a hell of a lot better. But we didn't.
"Live at Pompeii" is one of the best music films of all time, sometimes it's hard to imagine a band that cool, that authentic today. What was going through your head in that ancient amphitheater?
[Laughs] Well, I think, we were unaware of just what a good idea it was. I mean, I'd love for any us to be able to take credit for it, but it was very much an idea that had been sprung by Adrian Maben, who's the director of the film. That combination of the venue, which was romantic in its own right, and the fact that it was outdoors with the wind blowing and empty, you know, which meant that we were completely free to re-shoot things, gave it a live feel without actually having to go through the process of curtailing the show because we had a real audience to please. I thought it was a fantastically successful formula that unfortunately owed nothing to the band's, [laugh] creativity.
Well that's all right, it wouldn't have been much without you either! What would it take for the remaining three of you to tour again? Pigs flying, or is it a maybe a little easier than that now?
No, I think it would take flying pigs. Very hard to, to see it happening. Roger's really happy working on his own. David, I think, would be very wary of doing the big shows and working with Roger full time. It'd be lovely to be able to give people good news. But I think if we did ever manage to do anything, it would be generated by a something like a Live 8 situation where we could make a difference to something that mattered.
So tell me, what car are you driving these days?
An Audi RS6, which is the estate bodied version, with a very powerful engine. So it means you can sit and drive it like a hooligan, but you can actually put a drum kit in the back of it too.


What's your favorite Floyd era? Let us know in the comments below or on Twitter or Facebook!