"I'd like to thank the Academy…" – Tim Grierson on The Art of Oscar Speeches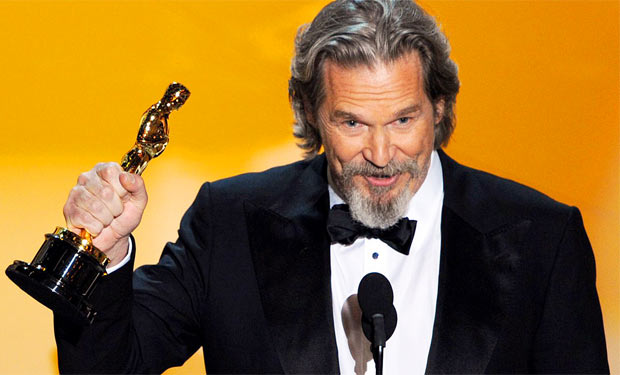 Posted by Tim Grierson on
It's easy to be cynical about the Oscars. "Just another awards show." "They always honor the wrong movies." "It's too stuffy and dull." And while I agree with all those complaints, I've never been someone who rolls his eyes at the Academy Awards. OK, fine, I'm not jazzed about Billy Crystal as the host, and I'm not thrilled that "The Artist" is probably going to win Best Picture. But this Sunday, I'll probably be as excited as I always am about the show. It's not necessarily who wins that matters — it's how they win. For me, you see, it's all about the acceptance speeches. In front of the world, a celebrated actor or director becomes something different — a brand-new Oscar winner — and the unpredictability of that transformation is something I never get tired of watching.
Because the buildup to Oscar night is filled with so many other nights of awards — critics' prizes, the Golden Globes, the SAG Awards — it can sometimes feel anticlimactic when they finally hand out the Academy Awards. (By this point last year, did anyone think Colin Firth or Christian Bale wasn't going to win?) And so it's inevitable that some of the speeches come across as smoothly delivered but a little rote. There's less surprise in the winner's voice because, well, he or she sorta knew this moment might be coming.
But nonetheless there are still occasionally those out-of-left-field shockers in which the pomp of Oscar night gives way to something more lively and human. For all the carefully manicured glitz of the program, a great, heartfelt speech can cut through that — and thank goodness.
I'm thinking of a moment like Adrien Brody's 2003 reaction to his Best Actor win for "The Pianist." He was up against four previous Oscar-winners, and he was easily the least-known of the contenders. And, yet, there he was, hearing his name called. We tend to remember Brody's victory mostly for his memorable big smooch with presenter Halle Berry, which gets replayed over and over again. But his acceptance was much more than just that — it was the chance to watch the youngest man ever to win Best Actor wrap his head around what was happening. And so out came this wonderfully touching and ramshackle speech that a more seasoned Hollywood veteran would never give in a million years. And that was the point: Whether wishing a military buddy a safe return or admitting that the experience had been great except for the "insomnia and sudden panic attacks," there was something terrifically unguarded and honest in Brody's words that made him seem like the realest person in the room. It wasn't smooth, but it was beautiful and emotional.
I think that's what we all want from acceptance speeches — that sense of connection with a winner in which we get a hint of what's going on in his or her head during a career-defining moment. Even if we've never had dreams of winning an Oscar (or a Grammy or a Tony or an Emmy), we've all probably imagined what it would be like to be in front of all our peers (and a huge TV audience) and say thanks. And even if you look down your nose at the Oscars, there's no question it's the pinnacle of the film business. For the rest of your life, you'll always be identified as "Oscar-winner" so-and-so. (Although, as George Clooney noted when he won the Best Supporting Actor prize, there is a downside to that.) And we all get to share in that moment of someone's ascension to Oscar immortality, which only a select group of actors and filmmakers have ever gotten to enjoy. That's incredibly thrilling — but it also must be a little daunting. The performance took weeks of preparation, a few months of shooting, and then a few months more to be shaped in an editing room. But the speech? That happens live, and there's no way to know what will come out of your mouth — but audiences will remember it for just as long.
I'm not the only one thinking about Oscar speeches lately. Film critic Glenn Kenny recently put together a list of the best male and female acceptances, and while it's a great rundown, I think it tends toward the more iconic speeches that we all remember. Personally, it's the smaller, less infamous moments that have stayed with me. Like when 2008 host Jon Stewart brought back Best Original Song co-winner Markéta Irglová (for "Falling Slowly" from "Once") to say her thanks after she'd been played off earlier. Or Kate Winslet, receiving her 2009 Best Actress Oscar, asking her dad to "whistle or something 'cuz then I'll know where you are" — which her dad did immediately, getting her attention in the packed Kodak Theatre. Or Paul Sorvino sobbing uncontrollably as his daughter Mira won Best Supporting Actress for "Mighty Aphrodite." Or Tommy Lee Jones, whose head was shaved for his upcoming role in "Cobb," insisting "I am not bald" while winning Best Supporting Actor in 1994.
But the reason why I love the Oscars specifically is that every once in a while you'll get a crazy confluence of events that allows the crunk rap group Three 6 Mafia to walk home with an Academy Award for Best Original Song for "Hustle & Flow." Their minds clearly blown, the members rushed the stage and just started shouting out thanks to whomever they could remember, which included group member Paul Beauregard (a.k.a. DJ Paul) thanking, "George Clooney, my favorite man, he showed me love when I first met him." It was such a terrific, spontaneous moment — almost as terrific as host Jon Stewart's comment to the staid Kodak audience: "How come they're the most excited people here tonight? Why is that? … That's how you accept an Oscar."
It's not the only way. But it sure made for great television. I hope we get a speech that heartfelt and natural and joyous Sunday night.
You can follow Tim Grierson on Twitter.
Do you have your own favorite Oscar speeches? Let us know in the comments below!