Mattel announces real-life "Back to the Future" hoverboards…kind of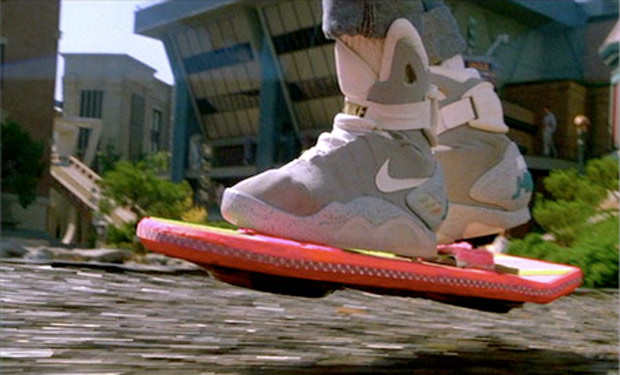 Posted by Terri Schwartz on
Strap on your Nike Mags and jump into your electric DeLorean, because you "Back to the Future" fans are finally going to be able to get your hands on a Mattel Hoverboard. The toy company announced at the New York Toy Fair that they're finally going to be releasing the beloved hovering skateboard made famous in "Back to the Future 2," though unfortunately these ones won't actually hover.
The replica will be movie-accurate and, based on Mattel's promotion, pretty darn expensive. There will only be a limited run of the Hoverboards, and Mattel said that if they don't get enough pre-orders on the product then it might not go into production at all. These better be some pretty advanced Hoverboards — even without the hovering technology — if Mattel is making so much of a fuss about the cost of production.
Here's the official description of the Hoverboard from its press release (via /Film):
"Back to the Future Hover Board: Finally! This totally awesome 1:1 replica of the hover board from the BTTF 2 and BTTF 3 films includes multiple whooshing sounds and will glide over most surfaces (does not actually "hover" – check back in 2015 for that feature). We'll be taking orders for it March 1 – March 20, 2012, and the final product will be shipped around November/December 2012. Because this is such a high-cost item, there will be a minimum number of orders required to go into production. If we don't receive the minimum orders, won't go into production and customers will not be charged. The price will be announced later this month. (Note: Hover board does not work on water.)"
And since someone seems to be paying attention to our list of five "Back to the Future" technologies we want to have now, can we be the first to put in an advanced order for dehydrated pizza and a brain wave analyzer? Perfect.
Would you be interested in getting your hands on one of these replicas? Tell us in the comments section below or on Facebook and Twitter.