Judd Apatow on origins of his "Knocked Up" spin-off: "Why do I have to meet new actors?"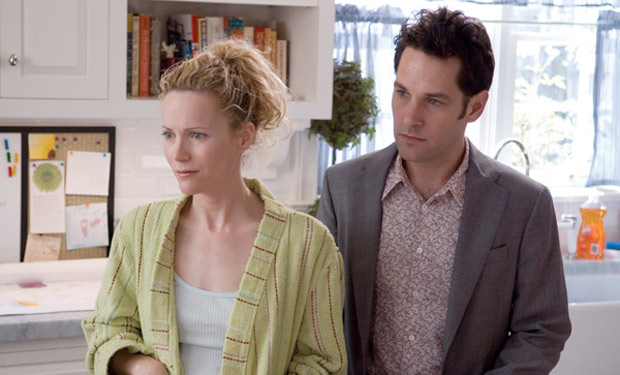 Posted by Terri Schwartz on
Judd Apatow's upcoming film "This Is 40" might be a spin-off to his 2007 hit "Knocked Up," but that also marks a first for the comedy director. He's never before written or directed a follow-up to one of his movies. Thus far Apatow has three directorial film credits to date — "The 40-Year-Old Virgin," "Knocked Up" and "Funny People" — and while some of his actors may overlap, his stories never do. Apparently while preparing "This Is 40," Apatow decided it was time to revisit his favorite onscreen family.
"I started thinking about writing a movie about a family and their midlife crisis, and then I realized I already have that family in one of my movies and I like them. Why do I have to meet new actors? I can use these amazing actors that people seem to like and were interested in learning more about and it came out really well," Apatow said when we caught up with him at Friday's Hilarity for Charity event, which raised money for the Alzheimer's Association.
While there will be some familiar actors in the spin-off like Paul Rudd, Jason Segel, Apatow's wife Leslie Mann and their two daughters, Maude and Iris, there's one face that will be noticeably absent. Seth Rogen, who starred in "Knocked Up," will not be making an appearance in "This Is 40." It will be the first time Rogen hasn't appeared in a film Apatow has directed.
"[Filming is] already done, so I know the answer's no because I've seen the movie and I'm not in it," Rogen told us when asked if he would be in the movie. His thoughts on Apatow's latest directorial effort? "It's great. I love it. I wish [I was in it]."
Even though Rogen won't be making an appearance in the film, there are plenty of exciting new stars who will. Apatow listed off Albert Brooks, John Lithgow and Megan Fox as three actors that fans should get excited to see in the movie. "It was a lot of other fun people," Apatow said of the cast.
"This Is 40" takes place a few years after "Knocked Up" left off and follows the lives of Pete (Rudd) and Debbie (Mann) as they struggle with issues with their jobs and marriage. It is due in theaters on December 21.
Are you disappointed Rogen won't be in "This Is 40"? What other film would you like to see Apatow work on a spin-off for? Tell us in the comments section below or on Facebook and Twitter.