Jeffrey Dean Morgan would consider playing the Comedian again in "Before Watchmen"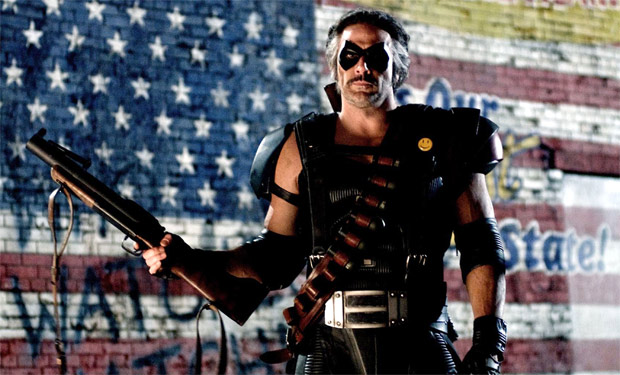 Posted by Terri Schwartz on
When DC Comics announced that they'd be working on "Watchmen" prequels entitled "Before Watchmen," it brought mixed responses from comic book fans. Alan Moore's original series has stood on its own for more than three decades, so it seems strange to tinker with that formula now.
But the joy of comic books is that they are stories that can be continually revisited, and it seems that DC decided now was the best time to revisit the Watchmen. It certainly helps that the 2009 big screen adaptation of "Watchmen," directed by Zack Snyder, brought a renewed interest in the series. However, neither Moore nor original artist Dave Gibbons will be lending their talents to these new stories.
It seems natural that Warner Bros consider making a film adaptation of the prequels once all seven issues hit newsstands. The first film was considered a failure — it only grossed $55 million more than its budget — but still generated enough fan interest to make a prequel seem potentially worthwhile, especially if the prequel comics do well. IFC caught up with Jeffrey Dean Morgan, who starred as the Comedian in Snyder's version of "Watchmen," at the Film Independent Spirit Awards to ask if he'd ever be interested in returning to his mask and cigar.
"It would have to be the right people involved," Morgan said hesitantly. "I would like Dave Gibbons, the creator of the [comic], to be behind it. I'd love to work with Zack again. Bur we always said when we did 'Watchmen' it was a one off. There's no way there can be a prequel so I don't know. It makes me nervous that they're even talking about it."
That being said, it seems as though this is the only way fans would be able to see Morgan as the Comedian again as he died in the first film. Since he played the Comedian in a variety of eras in "Watchmen," Morgan agreed that it would make sense for him to return to the role in a prequel.
"If there was a way [Warner Bros] could squeeze a move out of it they'd probably try to find a way," he said. "I don't know honestly if they'd recast but since I play the Comedian from 18 to his demise at 60 I guess I would fit in there somewhere."
Bottom line? "We'll see," Morgan said. "We'll see." Sounds like it's up to "Before Watchmen" to be a success before we ever here official talks about the comic book being made into a movie. But at least it's nice to know that Morgan would be game if it ever came to that.
Would you want to see Morgan reprise the role of the Comedian in a "Before Watchmen" adaptation? Tell us in the comments section below or on Facebook and Twitter.