New "The Hunger Games" still shows Lenny Kravitz and Jennifer Lawrence in a crucial moment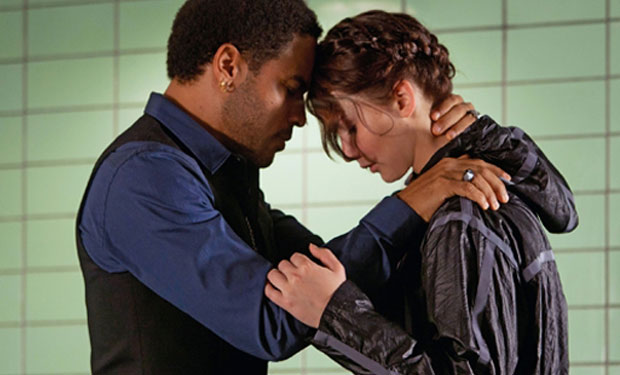 Posted by Terri Schwartz on
Another day, another new image and set of interviews from "The Hunger Games." The clock ticks ever closer to the film's March 23 and — if we're lucky — a new theatrical trailer even sooner. Today's image comes courtesy of Rolling Stone features Katniss (Jennifer Lawrence) and Cinna (Lenny Kravitz) sharing an emotional moment immediately before "The Hunger Games" begin.
The casting of Kravitz at first seemed like an odd choice, but has since proven to be one of the more interesting and exciting decisions in the creation of the movie. Everything we've seen of Kravitz's Cinna up until this point has seemed to show that he will give a powerful, quiet performance, and Kravitz's comments to Rolling Stone about the character give us the same impression.
"He's very streamlined, he's very quiet," he said. "He knows what he's doing. He's confident. He's got a big heart. I just liked the way he moved — very smooth."
"The Hunger Games" also graces the cover of this week's issue of The Hollywood Reporter. The industry mag has run a story listing off the "9 untold secrets" of "The Hunger Games," including the fact that it took Lawrence three days to agree to the role of Katniss Everdeen.
"I called my mom and she called me a hypocrite, because when I was doing indie movies and everyone was asking why I didn't do studio movies, I said, 'The size of the movie doesn't matter.' And she said, 'Here's a movie you love and you were thinking of turning it down because of its size.' I thought, 'I don't want to miss out because I'm scared. Me being scared, I never want that to stop me from doing something.' But I knew in my heart that I wanted it — it was about working out all the fears," Lawrence said.
Turns out that Lawrence is only being paid a modest $500,000 for the first film plus "escalators" or bonuses based on how well the movie does, and the movie only cost $90 million to make. More importantly, the main trio of actors — Lawrence, Josh Hutcherson and Liam Hemsworth — are signed on for the whole franchise, though director Gary Ross has only agreed to film "The Hunger Games" and "Catching Fire" so far.
Arguably the funniest secret in the bunch is the one that Hemsworth shared. Prior to shooting the movie, his big brother Chris Hemsworth — aka "Thor" — texted him and suggested that he slim down a bit. "He said, 'It's called The Hunger Games, not The Eating Games!' " Hemsworth recounted.
What do you think of the new image? Are you itching for a new trailer as much as we are? Tell us in the comments section below or on Facebook and Twitter.