The Oscars are horrible (and I hope they never get better)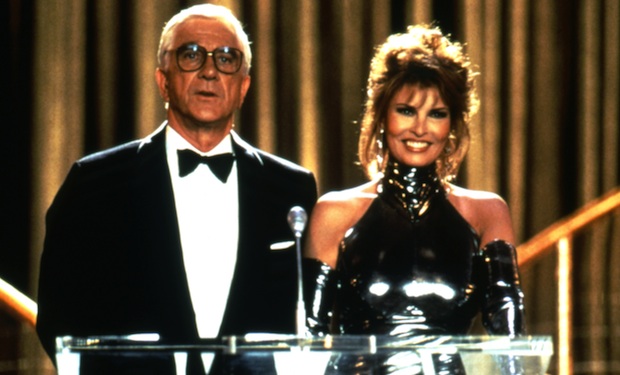 Posted by Matt Singer on
The Oscar race is finally over, which means we've got about three weeks to fill before the next Oscar race begins, which means it's time to talk about the Oscar show itself, specifically how bad it was. If you were so inclined, you could have spent the better part of Monday just reading articles — like this one by Salon's Andrew O'Hehir or this one by The A.V. Club's Noel Murray and Tasha Robinson — about what's wrong with the Oscars and how to fix them. Both of those pieces are extremely well-written and well-reasoned. The Oscars were indeed a mess this year. Mistakes were made.
But please, for the love of God: no one fix them.
Maybe there was a time when it was important that the Oscars were good. Maybe at some point in the past it was necessary for the Oscars to be entertaining in order to get people to tune in. Those days, though, are long gone. Thanks to social media the Academy Awards as they are now — maudlin, crass, self-important, interpretative danced by French acrobats on bungee cords — are way more fun than they've ever been before. The Oscars are horrible and I, for one, hope they never get better.
This is what I hope the members of the Academy take into consideration as they meet this week to discuss the show and the public and critical reactions to it. I'm sure someone will bring up all the things that didn't turn out as planned, like the on-stage microphones's impossibly poor sound quality and the bizarre choice of contributors to the what-movies-mean-to-me Oscar montages (In case you missed it, Adam Sandler makes movies to "tell the truth." Adam Sandler. "Jack and Jill" Adam Sandler. To tell the truth. Adam Sandler.). The Academy might see the reaction to these gaffes and snafus and try to come up with solutions to prevent them from happening again in the future. I think I speak for everyone when I say: that would be a terrible idea. Even more terrible than putting Billy Crystal in blackface to play Sammy Davis Jr. in a bit opposite Justin Bieber.
If you followed along with the Oscars on Twitter, you might have gotten the impression that no one enjoyed the awards. That's because every tweet was a mean joke or an insult (or an insulting joke). But if the Oscars hired a new host (like, say, Tom Hanks or maybe Tina Fey), and replaced Bruce Vilanch with a new head writer (like, say, Louis C.K. or maybe Tina Fey) and turned all the awkward, unsuccessful comedy bits into legitimate humor, what would we make fun of during the show? That would be an even bigger disaster than, well, the Oscars.
In the age of social media, the Academy Awards are really only the first half of the Oscar experience. The show doesn't need jokes anymore, just set-ups; we'll provide the punchlines, thank you very much. You know what happened when something legitimately funny happened during the Academy Awards (like, say, when Will Ferrell and Zach Galifianakis got up in Brad Pitt's face with several large cymbols)? I got bored. It's much more entertaining to not be entertained and then entertain yourself and others online.
For all the grief people (and by people, I mean me) gave Billy Crystal about pulling his decades-old material out of a Mini-Storage for the occasion, he's actually the perfect guy to host the Oscars in the age of social media. Because while Billy Crystal hocks his wares on the stage of the Kodak Theatre, every other stand-up comedian worth a damn gets to make their own jokes on Twitter. Crystal's opening monologue lasted maybe six minutes on television; on Twitter, the monologue lasts all three hours of the show and it's written by a million comedic minds and none of them have to get their schtick approved by executives or cleared by censors.
That's why I say this to the Academy: ignore the naysayers. Next year: go even weirder. Have Billy Crystal back, and this time have him host the whole show as Sammy Davis Jr. Get Cirque Du Soleil to present all the nominees. When it's time for the annual death montage, add a laugh track. Accidentally forget to announce the winner of the Best Actor category. Turn off the hurry-up-your-speech music and let people ramble on about their agents and managers for as long as they please. Whatever they want, so long as it's bad. The worse they give it, the better we like it.
Be honest: do you enjoy the Oscars more when they're terrible? Tell us in the comments below or write to us on Facebook and Twitter.