"G.I. Joe: Retaliation," "The Avengers" and "The Amazing Spider-Man" deliver the action at Toy Fair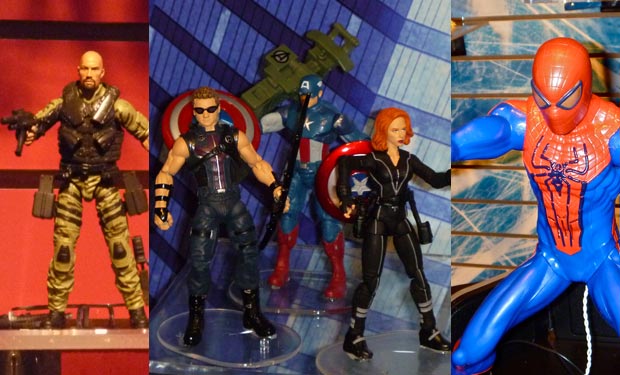 Posted by Will Weinand on
The relationship between movies and toys these days is almost seamless. On one had you have movies like "Star Wars" that pretty much gave birth to the action figure line, and other the other you have toy lines like G.I. Joe and Transformers that were adapted in to major motion pictures. And the relationship makes complete and total sense. From wanting to take a piece of your on-screen adventure home, to the excitement of seeing your action figures come to life, there's a certain chemistry between plastic and film, and this weekend it brewed to a perfect mix at the New York Toy Fair.
At the Hasbro Fan Media Day, IFC had the opportunity to spend some quality time with the toys that will accompany this summer's biggest movies. From the Marvel Movies, we were able to see "The Amazing Spider-Man" in multiple incarnations, from the standard action figure to an RC version of the web-slinger that climbs wall using vacuum suction. And for those not content with simply playing with the Lizard, there's a snazzy mask to bring out your inner reptile.
Also from Marvel comes figures from "The Avengers," featuring Captain America, Hulk, Thor and Black Widow. Among the many vehicles the figures can use, none is more impressive than the 3-foot long S.H.I.E.L.D. Helicarrier, with more than enough space for the entire line-up of heroes to assemble. While the Helicarrier isn't quite as big at Hasbro's 1985 U.S.S. Flagg, it could also serve as the perfect staging for a G.I. Joe assault squad.
And while we're on the subject, the new figures from "G.I. Joe: Retaliation" are unbelivably cool. From Dwayne "The Rock" Johnson's Roadblock, which could inspire anything from wrestling to "The Fast and The Furious" playtime, to finally getting a Bruce Willis action figure (in character as Joe Colton) that makes up for every John McClane figure we didn't get over the four "Die-Hard" movies (now, if they had only cast Alan Rickman as part of Cobra's inner circle).
But while it's great to get figures for two of film's biggest action heroes, my personal favorite has to be The Rza's figure for The Blind Master, a member of the same ninja clan that trained Snake Eyes and Storm Shadow. If there was ever a figure more deserving of Kung-Fu grip, it would be an MC from the Wu-Tang Clan.
With the release of "Star Wars: The Phantom Menace 3D," this past week, Hasbro has introduced newly sculpted figures from the film, as well as a massive Trade Federation Droid deployment ship.
But the best thing from this line has to be the one that isn't in any of the movies, but really should be: Jar Jar Binks in carbonite.
While it isn't really clear who's throne room wall Jar Jar would be displayed on, we're pretty sure no one will be mounting a rescue any time soon.
And finally, we got to check out the toy lines for "Battleship," which feature an updated version of the game so that you can match the Earth's Navy against alien invaders, and model kits using Hasbro's new Kre-O building block line.
Did seeing the toys for this summer's movies get you excited? Which ones do you have to get first? Tell us in the comments below or on Facebook or Twitter.