"Ghostbusters III" in "suspended animation" as Bill Murray passes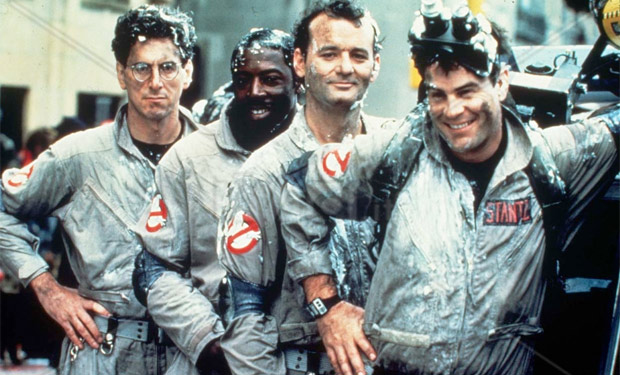 Posted by Aubrey Sitterson on
Ever since "Ghostbusters II" in 1989, fans of the classic supernatural action-comedy have been clamoring for another installment. Undeterred by the fact that no one really liked the second movie all that much, fan hopes were stoked by the release of "Ghostbusters: The Video Game" in 2009, featuring the voices and likenesses of the original cast, as well as by frequent claims from star and writer Dan Aykroyd that he would indeed be getting the band back together (to mix movie references). Now, however, a "Ghostbusters" threequel is looking less likely than ever.
An extended profile in Telegraph goes into great detail about Aykroyd's life, with quotes and input from the actor himself. Some of the topics covered include hi Aykroyd's line of premium vodka, his early days on Saturday Night Live, his legendary partnership with John Belushi, and his relationships with ghosts, both the actual, summoned-at-a-séance kind, as well as the types that are more in need of busting.
If you've ever had an interest in Aykroyd or his work, the entire article is definitely worth a read, but if you're just hungry for "Ghostbusters" news you'll want to skip to the end. Aykroyd first wrote a script for the new flick in 1999, but it was a recent rewrite by writers on the American "Office" that got everyone really excited. The new film is meant to establish a new generation of Ghostbusters, and the entire cast was into it, except for Bill Murray, who was the undeniable standout of the first two movies.
Aykroyd explains that Bill Murray just doesn't want to be involved, mostly on account of the fact that he's living a great life as a rich guy, with a bunch of kids and houses, getting paid to play in golf tournaments. As a result, the actor/writer says the project is in "suspended animation," and stresses that they aren't "going to do a movie that exploits the franchise," despite significant interest from the studio.
What do you think of a Bill Murray-less "Ghostbusters III"? Should the production go on without the iconic funnyman? Tell us in the comments below or on Facebook and Twitter.