The "Ghost Rider" directors talk Easter Eggs, inner demons, and the superhero brawl they'd love to film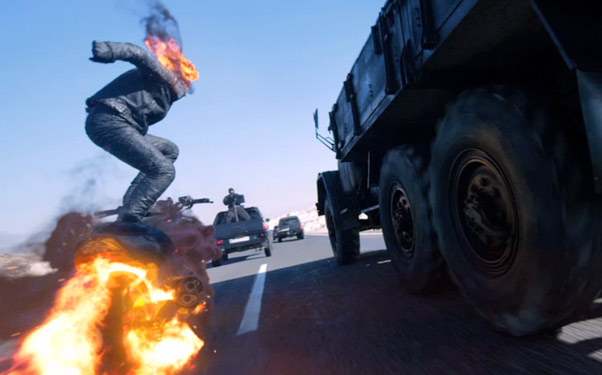 Posted by Rick Marshall on
"Ghost Rider: Spirit of Vengeance" roars into theaters this weekend, bringing audiences a reinvention of the skull-faced, motorcycle-riding Marvel character as seen through the lens of "Crank" directors Mark Neveldine and Brian Taylor. Although Nicolas Cage returns to the role of Johnny Blaze that he first played in 2007's critically panned "Ghost Rider," the new film has been described as anything but a straight-up sequel by the studio, and looks to offer a more kinetically-charged, darker take on the character that blends intense action and horror elements.
In the film, Johnny Blaze is tasked with rescuing a boy named Danny from the demonic forces pursuing him across Eastern Europe. Along with a host of bad guys armed to the teeth with all manner of heavy weaponry, Ghost Rider must contend with a vicious supernatural villain who can decay anything he touches and a demon who may or may not be the devil himself. This is all in addition to Johnny's own internal struggle with the demon that lurks inside him and yearns to exact fiery punishment on the wicked.
IFC spoke to Neveldine and Taylor about the new film, and got their take on bringing Ghost Rider back to the big screen, some of the movie's comics-friendly plot points, and the two superheroes they'd like to bring together in a perfect world.
IFC: I've noticed over the last few years that the filmmakers and actors who take on certain comic book movie projects tend to have a pre-existing connection to the character — whether it's one of their favorite characters from back in the day, or just a character they discovered recently and pursued. What was your connection to Ghost Rider? Why did this particular film appeal to you?
BRIAN TAYLOR: Well, it's kind of the same connection Nic has to the character. We all have demons, and that's what the Ghost Rider is. Johnny Blaze has a demon — but it's a real one. Anybody who has a dark side and struggles with it can relate to what the Ghost Rider is, so of all the heroes it seemed like the perfect one for us to take on. Also, we like to wear leather.
MARK NEVELDINE: And motorcycles… [laughs]
IFC: After the poor performance of the first film, a lot of people were surprised when Sony announced that it was making another Ghost Rider movie. When you two came on to the project, what elements did you focus on changing this time around? Were there any particular parts of the first "Ghost Rider" that you identified as problem areas?
NEVELDINE: We didn't look at it that way, actually. I didn't see the first movie, but it wasn't about changing things with this one, it was about starting from scratch again with a script David Goyer wrote years before the first movie came out. So it really was its own thing. When we got on board, we said, "Hey this is what we'd like to do with it," and Sony said they loved the aesthestics of what we wanted to do with the skull, the rider, and the motorcycle, and this dark demon that he's battling with — like he's battling an addiction. They dug all of that, and we just put our stamp on it and made it.
We're super happy the first movie was made, though. I think a lot of kids loved it and it was kind of the Disney version of the Ghost Rider. I'm actually going to watch it the night before our movie opens to finally see it. I'm excited about it. ["Spirit of Vengeance"] is really a reinvention of Ghost Rider.
IFC: One of the big questions surrounding the film right now is whether the boy named Danny is actually supposed to be Danny Ketch, the character from the comics who eventually becomes Ghost Rider after Johnny Blaze. Danny's last name is never mentioned in "Spirit of Vengeance," so what's the deal? Is he Danny Ketch?
TAYLOR: We threw that in there to drive people crazy talking about it. Is he Danny Ketch? We don't even know yet. Did J.J. Abrams really know how "Lost" was going to end when they started it?
NEVELDINE: He probably did.
TAYLOR: [Laughs] Well, we don't know the answer to that one yet.
IFC: Outside of the Danny might-be-Ketch, are there any other elements from the Ghost Rider comics that managed to fit into the film? I know the villain was based on the character Blackout, right?
TAYLOR: Yeah, we never actually call the villain Blackout, but fans of the comic will recognize him as an altered, evolved version of Blackout. For the most part, Ghost Rider is a character who's so cool, but he's never been done the way you really want to see him — even in the comics. The stories written by Garth Ennis were really cool, but with the exception of those, you always wanted something different from the Ghost Rider. You always wanted him to be darker, scarier, or weirder, so we really didn't use the first movie or the comics as a jump-off point. We just tried to do the coolest version of the character that we could with what we were handed.
IFC: There were a lot of familiar horror-movie elements in the film, like the way Ghost Rider lurches around at varying speeds and just suddenly appears in front of his victims. It's something we see a lot in modern horror films. Was there a conscious effort on your part to make this more of a horror movie than a superhero movie?
NEVELDINE: Yeah, we wanted him to be frightening. We love those horror elements, because they feel like a natural part of the character. When you think about this character, he should frighten the person he's standing in front of.
TAYLOR: He is more of a horror character than a superhero. A lot of that stuff we came up with while talking with Nic, too. There's a particularly inexplicable and insane moment when Ghost Rider kills all of the guys at the quarry, and when the smoke clears you find Ghost Rider levitating in the air, slowly spinning around like a clock or a compass. That was something that came out of us batting around an idea with Nic that the Ghost Rider inflicts psychological warfare on his victims as much as he does physical, and a lot of what he does is similar to the demonic presences in "Evil Dead" and "The Ring" and movies like that. They're fucking with people's minds and want to destroy your brain before they destroy your body. [Ghost Rider] does a lot of stuff like that because he's a demon from another dimension, and you will never understand why he does it. Humans will never understand why he does what he does, and you're sort of in awe and horror of it at the same time.
IFC: So, if all goes well with your reinvention of the character, would you be interested in returning to the character for a sequel? Do you feel like you have more Ghost Rider stories to tell?
TAYLOR: As always, it's up to the fans. If people embrace this movie, I'm sure they'll want another one. The challenge for that would be: Can we make as big of a leap from the second movie to the third as we did from the first movie to the second?
NEVELDINE: There's a lot of territory still to cover, though.
IFC: There's been more than a few people who have suggested that you guys should do more comic book movies. If you could have your pick of any characters in the comic book world, who would you want to make a film about?
TAYLOR: We would love to answer the age-old question of who's stronger, Hulk or Superman.
"Ghost Rider: Spirit of Vengeance" hits theaters Friday, February 17. The film stars Nicolas Cage, Ciaran Hinds, Idris Elba, Violante Placido, Johnny Whitworth, and Fergus Riordan.
What do you think of the "Ghost Rider: Spirit of Vengeance" directors' answers? Chime in below or on Facebook or Twitter.