George Lucas says Greedo always shot first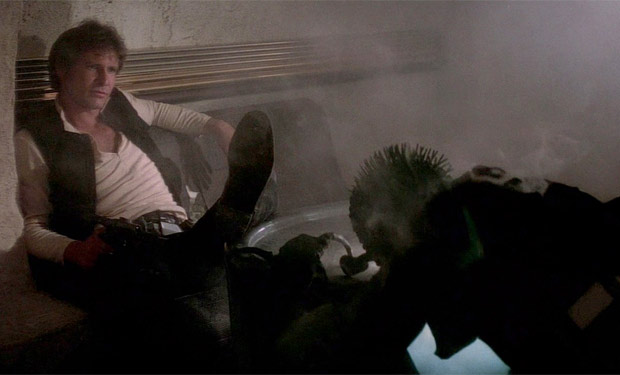 Posted by Terri Schwartz on
If you were upset when George Lucas clearly delineated that Greedo shot first in later releases of "Star Wars: A New Hope," then you're not alone. But now Lucas is trying to clear the air by saying that Han had never shot Greedo first in version of the movie. No, you were only watching it wrong.
"Obviously [the change] upset people because they wanted Solo to be a cold-blooded killer, but he actually isn't," Lucas explained in an interview with The Hollywood Reporter. "[The scene] had been done in all close-ups and it was confusing about who did what to whom. I put a little wider shot in there that made it clear that Greedo is the one who shot first, but everyone wanted to think that Han shot first, because they wanted to think that he actually just gunned him down."
So there you have it. Greedo shot first all along. But Lucas seemed to be in the mood to rile fans up during this interview. He went on to say about fans' passion for "Star Wars" and their anger over his alterations, "Well, it's not a religious event. I hate to tell people that. It's a movie, just a movie."
Ouch. I guess that's what people get for yelling at Lucas all the time. He went on to defend the 3D version of "The Phantom Menace" that hits theaters today, saying that it hasn't been altered from the version of the movie that was released on Blu-Ray not too long ago. The 3D conversion is the only change.
"Changes are not unusual – I mean, most movies when they release them they make changes. But somehow, when I make the slightest change, everybody thinks it's the end of the world," he said. "My job is to try to make the best possible movie it can be and the current version is the Blu-ray version."
How do you feel after learning that Greedo always was intended to have shot first? What do you think of Lucas saying "Star Wars" is "just a movie"? Tell us in the comments section below or on Facebook and Twitter.