Five Sylvester Stallone roles in order of scariness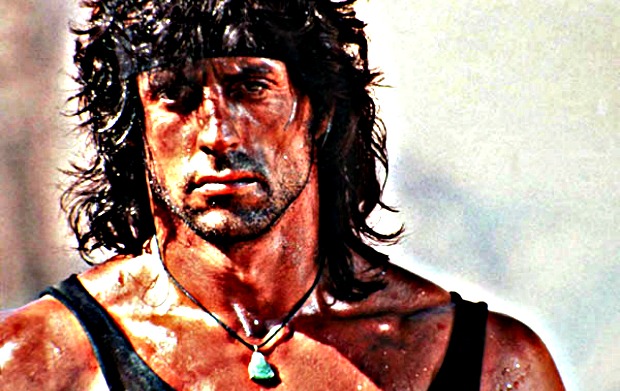 Posted by Melissa Locker on
Tonight we are taking up arms. Specifically Sylvester Stallone's arms and we are helping him wage the righteous war against Donald Sutherland a.k.a. Warden Drumgoole. You see, in "Lock Up," which airs at 10:30 p.m. ET, Stallone's character Frank Leone is nearing the end of his prison term for a relatively minor crime and eager to get back to life with his lovely lady. However, just before he is paroled Warden Drumgoole takes charge and he has some revenge he would like to serve cold or hot. He doesn't care. He just wants to make sure that Leone never sees the light of day. You see, Drumgoole was assigned to this hell-hole prison after he was publicly humiliated by Leone and now he will do anything in his power to make sure he remains on our list of Top 12 Most Evil Wardens.
Of course, Stallone is a bad ass in this role of tough-as-nails prisoner with a heart of gold. It's his milieu. Hard on the outside but soft and gooey as a warm chocolate chip cookie on the inside. But when Stallone is scary, he is really really scary. Would you step in the ring with Rocky Balboa circa Rocky III? No. You probably wouldn't even tussle with him as Sgt. Joe Bomowski in "Stop! Or My Mom Will Shoot," because Sylvester Stallone is just built to inspire fear in all comers.
Here are five Stallone roles in order of scariness:
5. Lieutenant Cobra Cobretti in "Cobra"
Cobra is a righteous, violent, take-no-prisoners cop on a mission. In short: scary.
4. John Spartan in "Demolition Man"
Spartan is a cop taken out of cryogenic freeze in order to fight his criminally insane nemesis (Wesley Snipes).
3. Machine Gun Joe Viterbo in "Death Race 2000"
Have you seen that guy's car?
2. John Rambo in "First Blood Part 2"
It's the rare sequel that's just as good as the original, Rambo takes the action and the scariness to a whole new level.
1. John Rambo in "First Blood"
Like "Les Miserables" for the 'Nam set, veteran John Rambo is arrested trying to get something to eat. When he escapes a manhunt is launched and so is a one-man war.
"Lock Up" airs on IFC tonight at 10:30 p.m. ET