Exclusive Premiere: Daydream Vacation "Clever Is Not My Best Excuse"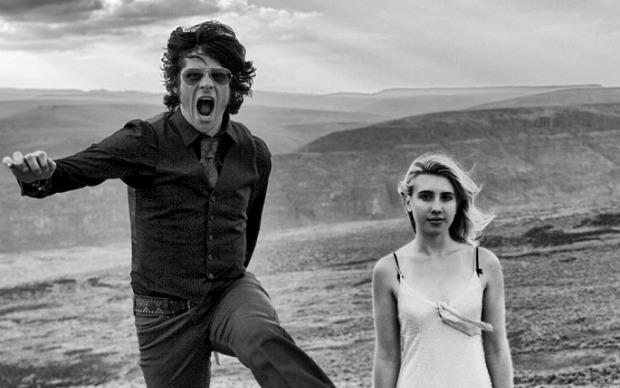 Posted by Melissa Locker on
Fans of Head Like A Kite will recognize "Daydream Vacation" as the name of a track on Head Like A Kite's second album, There Is Loud Laughter Everywhere. That track (possibly the album's best) featured Smoosh's Asya on vocals, so when Dave Einmo, mastermind behind the electro-studio pop group, wanted to branch out, she was a natural choice to lay down vocals over his looping beats. And Daydream Vacation was born.
This new partnership sprung up recently, although Dave Einmo and Asya have known each other for many years. Dave released the first Smoosh album She Like Electric on his small record label, Pattern 25, in 2004, before Smoosh moved over to Barsuk. Since then Asya has appeared on multiple tracks from Head Like A Kite and appeared live with the band. This new venture is clearly not another Head Like A Kite release, but a true partnership between two pros.
While you can hear hints of their other work, they've managed to create a sound uniquely their own. Like the best pairings (peanut butter and chocolate anyone?) this track, "Clever Is Not My Best Excuse," is in some ways better than what either has produced on their own. It is eminently danceable and catchy without falling into cloying sweetness.
Their songs combine Head Like a Kite's genre-bending ultra-modern party tunes with Asya's sweetly dreamy vocals, creating a cohesive sound that belies the album's creation. With Asya in Sweden and Dave in Seattle, they traded musical ideas back and forth via Skype, swapping beats and vocals online until they had enough material for an album. Then Asya flew to Seattle, where they tracked the album in Dave's home studio. The results are contagiously foot-tapping tunes destined to be go-to songs for DJs looking to crowd the dance floor. Daydream Vacation will self-release their debut album, Dare Seize the Fire on June 19th.
video player loading
.
.
.