New set photos released for Coen Brothers' "Inside Llewyn Davis"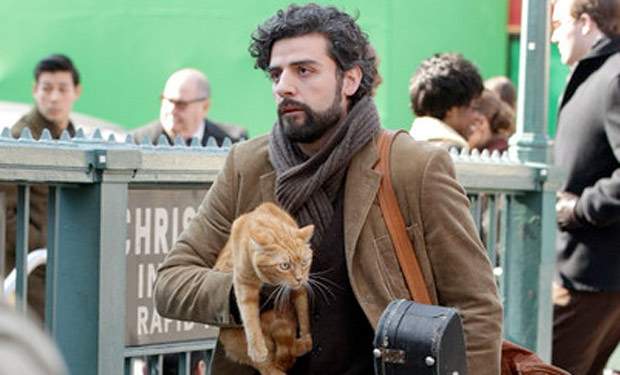 Posted by Aubrey Sitterson on
Music always plays an important part in the films of Joel and Ethan Coen, but in the sibling duo's new flick, "Inside Llewyn Davis," the music will be taking center stage in a story inspired by folk pioneer Dave Van Ronk. Appropriately, the movie is set and being filmed in New York City's Greenwich Village, the focal point of the 1960s folk movement, and now courtesy of a batch of new set photos, you can get a peek at how the film and cast will appear.
The movie stars Drive's Oscar Isaac as the Van Ronk character, seen in the photos lugging around an acoustic guitar in one hand and a cat in another. Sexually frustrated movie fans take note: This is how you get laid. The cast is rounded out by Isaac's Drive costar, Carey Mulligan, who you also might recognize as the fiancé of Marcus Mumford, of Mumford & Sons fame. Mulligan's on-screen husband is being played by Justin Timberlake, who appears to have straightened his hair and everything for the role.
Even if, you're of the totally reasonable opinion that after "No Country for Old Men" and "True Grit," Joel and Ethan should just make Westerns for the rest of their career, their still might be something interesting for you in "Inside Llewyn Davis." While there (probably) won't be any climactic gunfights, Slashfilm reports that "the Coens are shooting this one as a real indie," so you can expect the filmmaking duo to proceed with a large amount of freedom.
What do you think about the photos for "Inside Llewyn Davis?" Is it significant that the protagonist of "No Country for Old Men" was named "Llewelyn?" Tell us in the comments below or on Facebook and Twitter.