"Chronicle" and 5 other movies that weren't based on comics (but seem like they are)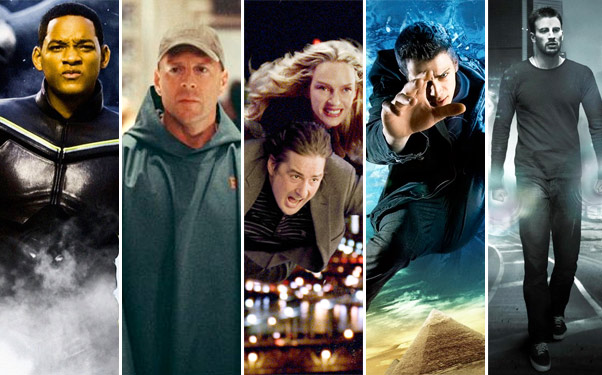 Posted by Rick Marshall on
Filmmaker Josh Trank's impressive debut film "Chronicle" hits theaters this weekend, and while its story of three teenagers who gain superhuman powers might seem like comic book fare, you won't find its inspiration on the shelves of your local comics shop (not directly, at least).
Featuring a story penned by Trank and co-writer Max Landis, "Chronicle" isn't the only recent movie you'd be excused for thinking is one of the many comic book adaptations to make the leap from page to screen lately. Here are five more films that are notable for featuring original stories that only seem to be ripped from the pages of a comic book.
---
"Hancock" (2008)
This 2008 film by "Battleship" director Peter Berg was celebrated for its dark, gritty take on the superhero genre, with Will Smith playing the role of a lone super-powered being in a world full of mortals. The very definition of an anti-hero, Smith's character has fallen on hard times when we first meet him in the film, but we get to watch him grow into something more closely resembling the archetypal hero as the story progresses. While the film has its share of critics, the fact remains that it's one of the more unique takes on the superhero genre to hit the screen in recent years — mainly because it seems to borrow inspiration from some of the comic book genre's darker tales rather than the more family-friendly heroic fare.
---
"My Super Ex-Girlfriend" (2006)
This 2006 film starred Uma Thurman as a female superhero nicknamed "G-Girl," who goes a little crazy after her latest boyfriend (played by Luke Wilson) breaks up with her. More a parody of superhero movies than a legitimate take on the genre, the film did explore something every comics fan has wondered from time to time: what happens when you fall out of love with someone who can lift a tractor trailer with one hand?
---
"Unbreakable" (2006)
Director M. Night Shyamalan's criminally under-appreciated 2000 film was years ahead of the "dark superhero movie" trend, and told the story of a man named David Dunn (played by Bruce Willis) who discovers that he is, well… unbreakable. A modern-day superhero who doesn't quite know what to do with his power, he sets out to do good, but finds that doing so is more difficult than the comics make it seem. Assisted by his comics-loving son and shop owner Elijah Price (Samuel L. Jackson), David begins the path toward superhero status — but as anyone who knows comics will tell you, every hero has an arch enemy.
---
"Push" (2009)
This ambitious 2009 film by director Paul McGuigan fell short of expectations, but did an admirable job of setting up a universe full of super-powered humans with various abilities. From movers (people who can telekinetically control objects) and bleeders (people who emit powerful sonic blasts) to stichers (people who can heal and unheal at will) and shifters (shape-changers), the world of "Push" was complicated and layered with a long list of power-wielders eager to test their mettle. Unfortunately, the film fell apart under the weight of its own universe (among other factors), but not before it received a cool comic book prequel by Marc Bernardin and Adam Freeman from DC Comics.
---
"Jumper" (2008)
"Star Wars" actor Hayden Christensen's return to the big screen had him playing a young man gifted with a genetic ability to teleport anywhere in the world at any moment. Not only does he find out there are others like him, but he also discovers that there are people who have sworn to kill all "jumpers." Unlike the other films in this list, "Jumper" was adapted from a print project, but not a comic book. The inspiration for the film came from a loose adaptation of Steven Gould's award-winning Jumper novel, which received significantly more acclaim than the film based on it.
---
What are some of your favorite comic book movies that weren't based on comics? Chime in below or on Facebook or Twitter.