This Movie Makes No Sense: "Cars 2"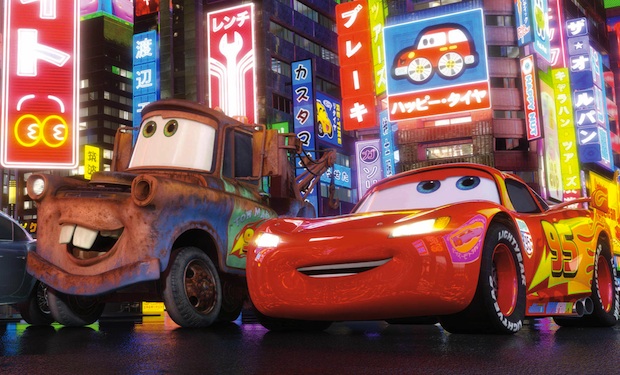 Posted by Matt Singer on
Earlier this week at a press junket for "John Carter," Disney producer Lindsey Collins suggested that a Pixar backlash was to blame for "Cars 2″'s lack of an Oscar nomination for Best Animated Feature. "I think it had the fact that Pixar has dominated going against it," Collins told Movieline. "At a certain point there was going to be somebody who was going to take the fall a little bit. It was going to be like, 'Eh, we don't like that one.'"
Was there a Pixar backlash? Perhaps. It definitely felt like a few critics took an undue amount of glee in finally getting an opportunity to savage a film from the vaunted Pixar Animation Studios. In their sixteen year history making animated feature films prior to "Cars 2," Pixar had never received a negative score on Rotten Tomatoes. Even 2006's "Cars" — supposedly "the bad Pixar movie" according to some critics — earned a respectable 74% on the movie review aggregator. But if critics were lukewarm on the first film in the series, they were bitterly cold on its sequel, which ultimately wound up with a rotten 39% Tomatometer rating. The reviews were scathing, a veritable festival of anti-pull-quotes. "A mess!" declared the Associated Press. "Surprisingly tedious!" moaned ReelViews. "Utterly ordinary!" kvetched The New Orleans Times-Picayune.
If you're looking for someone to refute the bad vibes, to explain how everyone missed the boat and why "Cars 2" is a misunderstood masterpiece, you're parking in the wrong garage. "Cars 2" is a mess, and its plot is, at times, surprisingly tedious. It is easily the worst film ever produced by the animation wizards at Pixar. It's not, however, "utterly ordinary." In fact, "Cars 2" is a bit more interesting — and a whole lot weirder — than you've heard. Ordinary? A film about sentient automobiles existing on a planet exactly like our own except for its total lack of human life, engaged in auto racing (a sensible occupation for cars) and international espionage (a less sensible one)? A film with car toilets and car bidets and car food and car sleeping gas? Sorry, no ordinary film makes this little sense.
Of course, the living, (apparently) breathing cars first appeared in the original "Cars," directed, like its sequel, by head Pixar honcho John Lasseter. But they invited less questions that time around. "Cars" was largely confined to the comings and goings of a sleepy town called Radiator Springs, where a race car named Lightning McQueen (Owen Wilson) got stranded on his way to the big finale of the NASCAR-ish Piston Cup. Though inspired by a Lasseter family vacation along the old Route 66, Radiator Springs was an entirely fictitious setting. It felt divorced enough from our own reality to let the inherent strangeness of its premise — a universe of cars without humans who, according to my vague recollections of elementary school social studies, were the ones who invented cars in the first place — slide. Anthropomorphic cars. Fine.
The expanded setting and more complicated plot of "Cars 2," though, make the larger implications of this world harder to ignore. This time out, Lightning is invited to participate in the World Grand Prix, with races all over the globe. While in Tokyo for the first leg of the WGP, Lightning's dopey sidekick Tow Mater (Larry the Cable Guy) gets mistaken for an American spy by British secret agent Finn McMissle (Michael Caine). While Lightning drives through the World Grand Prix, Mater participates in a series of James Bond-style chases and "car-ate" fights to protect the world from evildoers who wish to interrupt the races and discredit its sponsor, a new alternative fuel source named Allinol.
If the cars are searching for an alternative fuel source, then they must be using a non-alternative fuel source — and, sure enough, "Cars 2″'s opening sequence, inspired by the pre-credits adventures of 007 in thrillers like "The Spy Who Loved Me," follows Finn McMissile as he sneaks aboard an enormous off-shore drilling platform. In other words: the cars of "Cars" need gas. Fair enough; but if cars need gas to run, and the gas needs to be sucked out of the ground just like it does in our reality, how did the cars function before they built their first oil wells?
Exactly what the cars need to survive is massively confusing in general. The cars require gas (or Allinol), but they can also apparently eat as well, ingesting foodstuffs through the enormous cartoon mouths on their front bumpers (their mouths also sport teeth and tongues, which must freak out potheads when they watch this movie). The World Grand Prix's launch party in Japan features a free food buffet, including wasabi that Mater mistakes for pistachio ice cream. As you might expect, Mater eats too much and is sent scrambling for water. The existence of wasabi means the existence of organic foods which would be unnecessary (or impossible) in a world without humans or animals. Then again, Mater mistakes wasabi for pistachio ice cream, which implies the existence of ice cream, which implies the existence of cows. But where are they? Who milks them? And how?
Cars need to make pit stops just like humans do, but still, it's a bit unsettling to learn the cars use bathrooms like the one Mater patronizes in "Cars 2." During the aforementioned Japan sequence, Mater begins "leaking" and dashes off to the lavatory. You might expect a car's bathroom to look like a car wash, but no, a car's public restroom looks exactly like a human one, right down to the mirrors and sinks (even though the cars don't have hands to wash in them).
Mater uses a toilet stall and gets roughed up by a parody of Japanese "Super Toilets" that include high-tech features like bidets and heated seats. Lasseter has said in interviews that "Cars 2" was inspired by the international press tour for "Cars 1," and it seems likely that he himself might have had a bewildering altercation with a crazily elaborate Japanese toilet. But that still leaves me wondering: WHY DOES A CAR NEED TO USE THE GODDAMN BATHROOM?
Let's talk about God for a second. The cars seem to have one, as a race in Italy is attended by The Popemobile. During a stopover in Paris, we also see Notre Dame Cathedral which sports clever "car-goyle" statues amongst its spires and arches. These are all clever visual jokes, but the film doesn't dwell on them, probably because if it did you'd start to think about them, and when you start to think about them the whole thing falls apart. If God created man — or cars — in his own image, that would seem to suggest God, at least in this batshit crazy universe, is a car too (probably a Lamborghini).
Here's another one that stumped me. The final leg of the World Grand Prix is in London, where the Queen is both a spectator and the potential target of Finn McMissile's enemies. Eventually, the heroes defeat the villains, and Mater gets knighted by a thankful Queen. A Queen car! So there's car royalty! How does that work? The English royal bloodline goes back centuries — does the English car royal bloodline work the same way? If it goes back even two or three generations, that's before the invention of cars. Was Queen Crown Victoria, say, a horse-drawn carriage? Did the cars evolve from lesser forms of transportation? How does Darwin fit in here? If all of human history played out basically as it did in Cars Land, what did Ancient Greece look like? Or the American Civil War?
So many questions. I've spent so much time dwelling on the larger theological and political implications of a world of cars I haven't even mentioned the more practical puzzlers, like the strange choices surrounding which characters returned from the first "Cars" for the sequel. If Doc Hudson was killed off in deference to the passing of his voice, Paul Newman, why did they recast George Carlin's character Fillmore? It all makes no sense.
Actually, while this movie makes no sense to me, an alleged adult, it might make perfect sense to a child. Kids, after all, routinely anthropomorphize their toy cars with nary a thought to rationality or continuity. The charmingly human world of "Cars" speaks to a child's logic even as it confounds an adult's. That's why this series has become Pixar's second-most successful franchise and a huge cashcow for Disney even though it's never connected with parents in the same way more respected and literate Pixar films like "WALL-E" and "Up" did. It may not have earned an Oscar nomination for Best Animated Feature, but I'm sure in the universe of "Cars" it would have won every single award given to movies. And the statuettes would have been shaped like the open source car — or OSCar for short. Just don't ask why.
What part of "Cars 2" makes the least amount of sense? Tell us in the comments below or write to us on Facebook and Twitter.