"Bullhead"'s director and star steer the conversation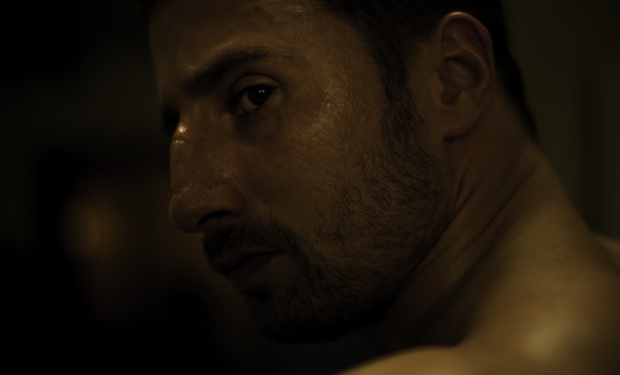 Posted by Matt Singer on
The race for the Academy Awards is a high-stakes, high-pressure game. But Michael R. Roskam and Matthias Schoenaerts, the writer/director and star of "Bullhead," a brutal and beautiful nominee for the Oscars' Best Foreign Language Film, seemed downright relaxed as we chatted in their New York hotel room three weeks before the big show. The Oscars, Roskam explained, are gravy. As far as he was concerned, they'd already won.
"Buzz is good," Roskam told me, "but if you can't see the movie, you can't decide whether it's good or not. So it's all about making as many people see the movie as you can. That's what we've been doing and that's what we're going to keep doing, whatever happens at the Oscars. That's the rewarding part. If we win, it's just an extra award."
If Roskam wins, it won't be undeserved. "Bullhead" is an unforgettable crime drama built around a remarkable performance from Schoenaerts. He plays Jacky, a Belgian cattle farmer with a dark secret. Through years of steroid abuse, Jacky has transformed himself into a massive mountain of a man; as the film begins, he enters into a deal with a shady meat trader to pump his livestock full of similarly illegal, similarly anabolic substances. When Jacky's new business partners murder a cop investigating their so-called "hormone mafia," he's threatened with the loss of his business and the exposure of his secret, thanks to the return of a childhood acquaintance he hasn't seen in decades.
Like the brooding, burly man at its center — Schoenaerts spent a year bulking up for the role — "Bullhead"'s hard exterior hides a vulnerable core; the film is as moving as it is monstrous. "It's not about the bad guys against the good guys," Roskam said. "Everybody is a bad guy, in a way. But there's good parts in a bad guy. It's not black and white."
During our conversation, I was curious where this morally murky story came from and how Schoenaerts prepared for his role beyond his obvious physical transformation. We also talked about Jacky's connection to Frankenstein and why you could never remake "Bullhead" in the United States. Roskam and Schoenaerts were charming, funny, and totally at ease throughout, like a couple of guys with nothing to lose.
Where did the project begin, with the idea of this character or with the story of this Belgian hormone mafia?
Michael R. Roskam: Let's say that the themes, like destiny, loyalty, impotence, powerlessness, manhood —
Matthias Schoenaerts: — redemption, revenge —
MRR: — redemption, revenge, those themes were already in my system as a writer. I was working with them in my short stories and short films. That's one part. Then in 1995, we had this hormone mafia situation. They killed a very honest veterinary inspector of the Food and Drug Administration in Belgium. He was an Eliot Ness kind of character, doing his job, by the book, while all his colleagues were corrupt and part of the scam, this whole illegal network of trafficking and illegal hormone use. We woke up one day with the knowledge that some of our farmers were gangsters, which is very original and even exotic in a way. And then of course I wanted to make this kind of film noir movie, and you need two things for a good film noir: a crime scene and a tragedy. I knew that this hormone mafia would give me a good opportunity to charm people or intrigue them.
I did some research on the meat industry and the agricultural economy, and I found out lots of things and some of those things directly inspired things that I used in the film. It's chemistry: things start to dance and connect and the process brings you to ideas that surprise you.
Matthias, obviously your role called for some serious physical preparation. What else did you have to do to get ready to play Jacky?

MS: Well, we had six years to work on it because Michael pitched me the part six years before we shot it. After I read the first draft of the script, I had this image of a half-man, half-bull kind of figure. So I thought his physical appearance was very important in evoking a lot for the spectators, to make them see this kind of Frankenstein being. And at the same time, I knew that once I got his physical appearance I could focus more on the vulnerable part of the character, which to me was more the core. I think Jacky moves through life through a deep existential pain and that to me was the most important thing.
It's interesting that you mention Frankenstein, because as I was watching the film — particularly during the final act — I really began to think of that story. Michael, is that a text that really resonates with you?
MRR: The archetypes of the monster and the freak, you can apply it very much to this character. Beauty and the Beast. King Kong and the girl. Even Batman. Batman is traumatized as a kid by bats, so he becomes a bat.
On a Freudian level, Jacky becomes his bully. He's attacked by something that is bigger than him; even though it's just another kid, he's huge compared to him. It was a force he could not resist. So to deal with his own trauma, he also becomes a force you cannot resist, in a physical way and a psychological way. And it's something that protects him. His body, this incredible mass of meat —
MS: — It's like a fortress.
MRR: Yeah, and that's why I deliberately chose not show any other interiors in his farm beyond the bathroom. There's nothing else. We always stayed outside. The bathroom was like his Batcave. That's the place where he can lay down in the shower and be alone and be himself and vulnerable again. He is like Frankenstein — not knowing how strong he is, being naive and even childish.
The character has such a unique onscreen presence, and he exhibits both human and animal characteristics. Even his breath, the way we constantly hear him huffing, he almost sounds like a snorting animal. Matthias, was that in the script, or was that an idea you guys collaborated on together?
MS: That's an example of things happening while you're playing. It was just a very natural consequence of what happened to me. I gained an enormous amount of weight and I just felt heavy, and I was breathing like a whale.
MRR: If he would try to sneak up on you, you could hear him coming.
MS: [laughs] I was snoring so badly when I slept, it was crazy! I couldn't avoid it. It would have been harder if someone had told me "Can you please not breathe like that?" I would have been in trouble.
Your character delivers some incredible looking headbutts in the movie. They look very real and very painful. What's the secret to delivering a good on camera headbutt?
MS: You just shoot it on the day that it's the other actor's last day on set, and you do it for real.
MRR: [laughs]
MS: No, no that's not true.
MRR: The actors are pretty trained but there was physical contact.
MS: We have a stunt coordinator who sets it all up with the camera. But the headbutts, that was also something that just happened during shooting too. It felt natural at points in certain scenes, instead of pushing someone, to just go at them with my head. It just happened naturally, it wasn't conceptualized. The first time I did it we realized we had to do it again somewhere else in the film.
There's a lot of discussion in "Bullhead" about coincidence: one character says they don't believe in it, but there does seem to be an awful lot of coincidence in the film. Michael, I'm wondering where you personally stand on that issue.
MRR: I'm intrigued by destiny and coincidence. It's a big subject in my short films as well. In the Greek tradition, if destiny exists, there is no coincidence. If you don't believe in destiny, you have to accept that it's coincidence. But it's very hard to deal with that because it takes the purpose out of life, that you can't control it. So if you control it, then you might control your own destiny, but then you believe in it, which you can't. I love to play with that. It's the roots of religion, what we're doing and where we're going. Is someone taking control of this or are we doing it ourselves? Or is it both? Sometimes people protect themselves by saying "I don't believe in it."
MS: Basically, you believe in it when it suits you. When it doesn't suit you, you stop believing it.
All right, last question: has making this film exposing the corruption and dirty practices in the meat industry changed your own meat eating habits?
MRR: I just keep eating meat. The whole growth hormone discussion is a difficult one. In Europe, it's illegal. In America, five types of growth hormones are legal to be used on cattle. Sometimes I think I'd rather eat meat and know exactly what chemicals are in it than eat so-called "hormone-free" meat, and not being truly sure.
MS: Basically nowadays everything is so manipulated. Fish is manipulated. Vegetables, fruit, everything.
Michael, you said there's five hormones that are legal to use on cows in the United States. It's suddenly dawning on me that this whole story about deceit and violence and death would have never happened in the U.S. because you could just put these hormones into the cows.
MRR: Yeah. That's an important thing: you can't remake this movie in the States.
[laughs]
MS: You'd have to make it about chemicals in vegetables.
MRR: Right. The legume mafia.
"Bullhead" opens Friday in New York, Los Angeles, and Austin, TX. If you see it, let us know what you think. Tell us in the comments below or write to us on Facebook and Twitter.